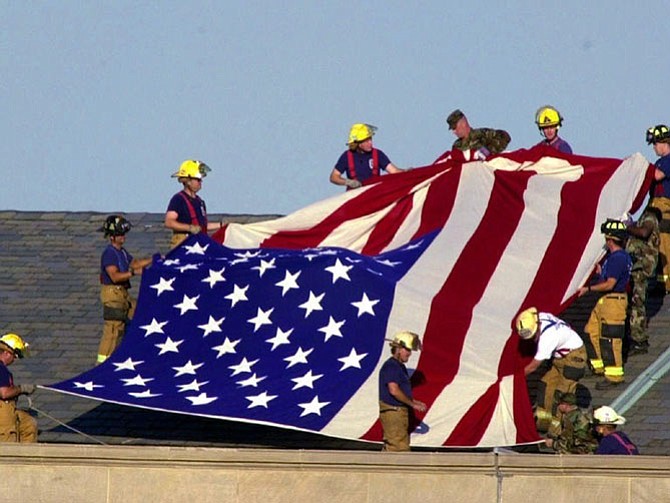 See photos of the victims on Facebook.
It was an unimaginable act of terrorism that took the lives of 13 Alexandria residents on Sept. 11, 2001. On Saturday, Sept. 10 at 5 p.m., the City of Alexandria will hold a ceremony to mark the 15th anniversary of what remains the worst terrorist attack in U.S. history.
The hour-long event, to be held in Market Square, will pay tribute to those who responded to the attacks and will feature remarks from Mayor Allison Silberberg and representatives from the Alexandria Police Department, Fire Department and Sheriff's Office.
The tribute will include the "Return to Quarters" bell-ringing ceremony and musical performances by the Alexandria Harmonizers and the City of Alexandria Pipes and Drums. The program is free and will be held rain or shine.
Remembering Alexandria's victims of 9-11
Spc. Craig Amundson
Spec. Craig S. Amundson, 28, was assigned to the Army's Office of the Deputy Chief of Staff for Personnel as a graphic artist and was at work at the Pentagon the morning of Sept. 11, 2001. He was posthumously awarded the Purple Heart and Meritorious Service Award.
Eddie A. Dillard
Eddie A. Dillard, 54, was a passenger aboard American Airlines flight 77. He left behind a wife of 15 years, Rosemary, and one son, Edrick L. Dillard.
Capt. Robert Edward Dolan
Captain Robert Dolan, 43, was working on the first floor of the Pentagon as head of the U.S. Navy's Strategy and Concepts Branch when American Airlines Flight 77 struck the building. He was a graduate of the U.S. Naval Academy and commander of the USS John Hancock.
Diane M. Hale-McKinzy
Diane Hale-McKinzy, 38, was a civilian employee for the U.S. Army at the Pentagon. Born in Lithonia, Ga., she served in the Army for four years before beginning a career in civil service.
Bryan C. Jack
Bryan C. Jack, 48, was on American Airlines Flight 77 when the plane struck the Pentagon, where he worked as the head of the Defense Department's programming and fiscal economics division. Jack and his longtime companion, artist Barbara Rachko, were married on June 16, 2001, just 87 days before his death.
Steven D. Jacoby

Steven "Jake" Jacoby, 43, was the chief operating officer of Metrocall and a passenger on American Airlines Flight 77. A community leader, Jacoby sat on the board of Men Against Breast Cancer and was actively involved with the Camp Fantastic Special Love charity golf tournament as well as Catholic Charities.
Terence M. Lynch
Terence Michael Lynch, 49, was one of three consultants from Booz, Allen and Hamilton who perished during a meeting at the Pentagon. On the day of his death, he was attending a meeting to extend survivor benefits to military families.
Maj. Clifford L. Patterson Jr.
Major Clifford L. Patterson, Jr., 33, was a native of Washington D.C. and graduate of St. John's College High School. In 1991 he graduated from Howard University as a Distinguished Military Graduate. He was working at the Pentagon on Sept. 11, 2001.
Cmdr. Robert Allan Schlegel
Cmdr. Robert A. Schlegel, 38, followed his father and brothers in the Navy. Prior to being posted to the Pentagon, he was executive officer of the USS Arthur W. Radford, a 9,000-ton destroyer.

Lt. Col. Gary F. Smith (Ret.)

Retired Army Lt. Col. Gary Smith, 55, was at a meeting at the Pentagon when American Airlines Flight 77 struck. A resident of Waynewood, Smith coached his daughter's soccer teams, kept time for the West Potomac High School track team and was a fixture at high school football games on Friday nights.
Norma Lang Steuerle
Norma Lang Steuerle, 54, was active in the Old Town community as a clinical psychologist and through Blessed Sacrament Catholic Church. She was aboard American Airlines Flight 77 en route to visit a daughter in Japan and her husband Eugene, who was teaching a seminar in Singapore.
Sandra C. Taylor
Sandra Carol Taylor, 50, worked as a civilian for the U.S. Army for 30 years and at the Pentagon for almost 10. She was a volunteer at the Hospice of Northern Virginia and at the time of her death was engaged to Timothy Dudgeon.
Meta L. Waller
Meta L. Waller, 60, was a 12-year civilian employee of the U.S. Army at the Pentagon and was at her desk when the hijacked airliner struck the building. Named after her grandmother, the African American sculptor Meta Warrick Fuller, Waller received a master's degree in government from Harvard University and was active in civil rights affairs.