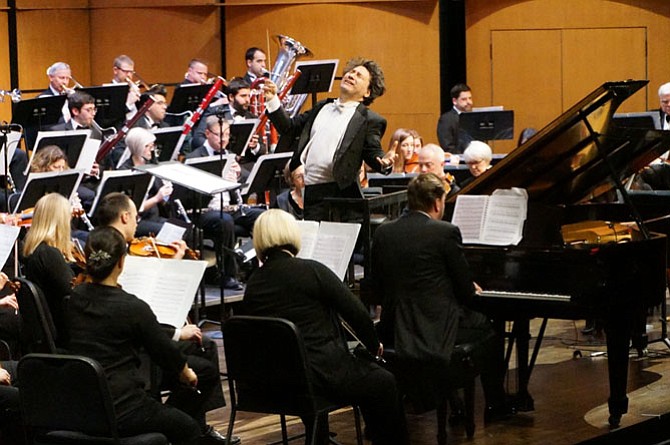 See more farewell concert photos on Facebook.
He refused to say goodbye. Although it was his final concert as music director of the Alexandria Symphony Orchestra, Maestro Kim Allen Kluge preferred to tell well-wishers "To be continued."
"Our hearts will always be in Alexandria," Kluge said of he and his wife Kathryn Vasser Kluge, who was born at Alexandria Hospital. "So tonight is not goodbye. Our journey here is to be continued."
Kluge's final concert with the ASO featured the world premiere of Kluge's American Concerto for Piano and Orchestra, which was co-written with his wife Kathryn. At the conclusion of the May 7 concert, board president Ronal Butler presented Kluge with a plaque declaring him the ASO's first Maestro Emeritus.
"What a bittersweet evening," said Old Town resident Joan Bondareff. "It was an incredible performance but sad to know Kim Allen Kluge is leaving us."
While the search for Kluge's replacement is underway, the 2016-2017 season will feature concerts led by world renowned guest conductors including James E. Ross, Kathleen Kelly, Michael Rossi, Scott Tucker and Emil de Cou.
"Kim Allen Kluge has brought the ASO tremendous growth and recognition," said board co-vice president and longtime supporter Carl Behnke. "But we still have many exciting times ahead of us."
For tickets or more information on the upcoming Alexandria Symphony Orchestra season, call 703-548-0885 or visit www.alexsym.org.