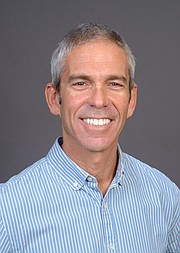 In his new book, "The Karma Sense Eating Plan," Dave Hellman, an Alexandria tech entrepreneur / health coach, shows readers how to cultivate mindful eating habits through combining food-related activities and performing good deeds.
Like many people, Hellman was frustrated by the conflicting information about health developments and nutrition in scientific reports, the news media and other venues.

Then, one night, he woke up with a realization that all this information is complementary. That night he created his vision of a technique that links performing good deeds with individual's actual activity of consuming food along with making them more conscious of those foods they were consuming.
"The trick for most individuals to be healthy is to find the right path for them. There is no one size fits all," he said.
In early March, "The Karma Sense Eating Plan" was released nationwide. It is available at Amazon and Barnes and Noble. The book's title is not only a play on the term common sense, but it also serves as a visual reference for the book's layout. "It has a very serious mission of helping people be happy and healthy and making the world a better place, but it does not take itself too seriously," he said.
Colorful graphics helps the reader navigate through the book's four sections: Karma, Sense, Eating, and Plan.
In the Karma section, Hellman connects healthy eating habits with individuals performing an intentional good deed outside of their normal routine. For instance, a Karma act for a vegetarian who normally does not buy sustainable vegetables would be to buy sustainable or organic vegetables once a week or daily.

"It is called the Karma component because when you do that [good deeds], you are creating good karma. When you do good for others, it just makes life better in general," he said.
The Sense section is based upon the popular concept of "Mindful Eating," a method of approaching eating in a focused and curious way that incorporates fully feeling the sense of the food being eaten.

He also asked readers to shake up their normal dining habits by thinking over three things before they dig in.
Think about the good deed that they did and how it made the other person feel.
Think about something good that someone did for them and how they want to demonstrate this appreciation.
Think about the food they are about to eat and the process that went into preparing it.
"Research shows that if you intentionally reflect on the good things you've done, it actually makes you happier. There is a whole list of health benefits you'll see in the book," he said.
In the Eating section, Hellman describes five basic rules for "how to eat healthy in a very nutritious way" such as eating more vegetables and fruits, eating slowly and stopping before you are full, and eating protein at every meal.

The last section called The Plan gives readers a set of tools on how to implement all of the tips, research and other guidance from the previous three sections into their daily lives.
Hellman also plans to use "The Karma Sense Eating Plan" to perform a "good deed" of his own by donating all the profits to charities that fight poverty and hunger. He has composed a Karma Sense Advisory Board to assist him in setting up criteria for the choosing the charities.
"Whatever money it does make, I want it to be effective as possible," he said.
One charity in the running is DeWorm the World, which works to rid children of parasitic worms. Eighty cents can deworm a child in Africa for a year.
On his website, http://www.daveyhwellness.com/karma-sense/board/, readers can keep up with the book's financial progress and see the list of possible charities.
He hopes to write a whole Karma Sense Series — one on physical activity, mindfulness/ stress management and a children's Karma Sense Series.
Hellman and his wife, Susan, moved back to Alexandria in 2011. He has a Bachelors in computer science and psychology from Duke University and is a certified exercise nutrition coach with a certificate from Duke University's Integrative Health Coach Professional Training program. He has worked for 30 years in a high tech field. Recently, he started a healthcare software business, which he sold to a larger company.