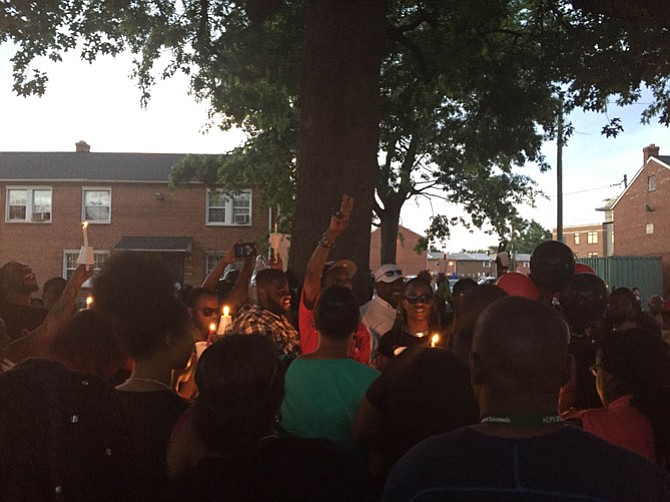 Pierre Clark had a personal motto. "Yeah that, two times," Clark would often say. Those close to him say he'd often say it in response to someone's proposal for a party or an adventure. The idea was to live big and double the stakes. As friends and family filled the 1000 block of Montgomery Street, where the 28-year-old was gunned down in the middle of the day on June 8, they chanted Clark's motto in his honor.
The shooting occurred around noon and temporarily sent nearby schools and public facilities into lockdown. Clark's murderer remains unidentified and on the loose. In the days after the murder, a tree near the site of Clark's death has been covered in flowers, candles, and a painting of Clark. After a community meeting on Friday, June 10, the block was full of friends and family holding a candlelight vigil and remembering him. While the gathering was somber, many also sang and cheerfully recounted Clark's larger than life exploits. It was the kind of send-off many said Clark would have enjoyed.
"He was a real nice guy, genuine, and always showed love," said Kimberley Majors, a family friend who grew up with Clark, adding with a smile, "and he was a fly dresser."
Among those remembering Clark, his refined sense of fashion came up more than once.
"We was a good person, you couldn't have asked for a better friend," said Nika Calloway, "He was always well dressed."
"He was a stylish family man," said Niesha Tillery, his long lost sister whom he'd recently reunited with. "He was so fun and outgoing. This is so sad. If someone had a problem with him, they must not have had respect for themselves."
His murder occurred less than a month after his release from Alexandria Jail. In 2012, Clark was charged with possession of a controlled substance, MDMA, with intent to distribute. Clark pled guilty and was given a three-year sentence with all but 90 days suspended. But after three probation violations, Clark was sent back to the Alexandria Jail to serve the remainder of his time. His probation and parole officer, Christopher Cahill, said in a report that Clark was struggling with a serious addiction to marijuana and PCP.
But during incarceration, those who knew Clark says he reformed and was beginning to turn his life around.
"He was a great father and loved his kids," said his aunt, Markeete Scott. "He just changed his life. He just got two jobs and was supposed to go to orientation. He was trying to do right."
Ruth Graham, an inmate classification counselor who has served with the Alexandria Sheriff's Office, said that Clark had been in a re-entry program at the Detention Center because he "wanted to get a better understanding of himself." Graham recalled Clark saying, just before his release on May 17, that he "really wanted to be there for his children." She said that when they last spoke it was a positive conversation with Clark saying that he "wanted to change how he was thinking so he could change what he was doing."
"He left here with the right mindset," Graham said, "I was stunned to find out what happened to him."
The Braddock Road area has become one familiar with tragedy. The murder is the third within the same three block radius, near the Braddock Road Metro Station, in the last year. On Friday, June 10, police gathered in the gymnasium of the Charles Houston Recreation Center to discuss the murder with the local citizens. Almost exactly a year ago, police were forced to hold a similar meeting in the exact same room after the murder of Shakkan Elliot-Tibbs. The routine felt familiar, with police asking for witnesses to the murder to report what they saw, anonymously if necessary, and local citizens pleading with each other to come together and form a tighter community in the wake of the violence.
"We can't give details, but we can tell you that we are making progress," said Chief Earl Cook.
Cook said that the nation has experienced an increase in violence since early 2015, and that Northern Virginia was not an exception to the trend. For Alexandria, that started with Tibbs' murder. In a coincidence, the day after Clark's murder, police announced the arrest of Rashad Lonzell Adkins for the 2015 murder of Tibbs. While Cook emphasized that police do not believe Clark's murder was gang related, he did say there were other similarities with the Tibbs case.
"Citizens saw the crime, and fear of retaliation meant they didn't come forward," said Cook. "48 hours after this crime, we know there are people who saw it who haven't come forward. It does take courage to step forward and say 'I want to see justice done.'"
Cook noted that it was witness statements that played a major part in finding Tibbs' alleged murderer.
Just like after Tibbs' murder one year ago, local citizens came forward and talked about the need for a tighter community.
"We cannot expect the police to be our bodyguards," said the Rev. Gregory King Sr. from the Christian Methodist Episcopal Church. "The community must be involved and police themselves."
"We keep shooting each other," said Tony Stewart at Clark's memorial service. "It's going to keep going unless we preach non-violence. We need a stop the violence campaign. We need it everywhere."
Anyone who may have seen or heard something related to the crime is asked to call Chief Detective William Oakley at 703-380-5019. The identity of the caller can be kept confidential if requested.