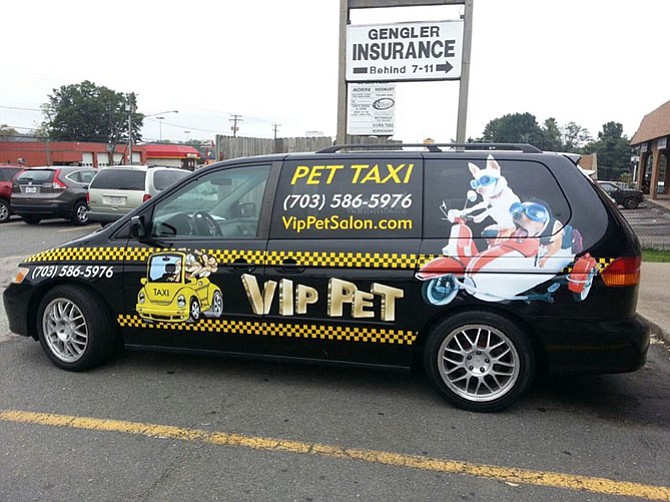 VIP Pet offers grooming, spa services and a dog taxi. Guzal Arslanova, owner of the pet salon, said, "Some people are so busy and they don't want to deal with traffic. So our dog taxi delivers our clients to doggy school at Olde Towne School for Dogs, to the vet or doggie day care. We have doggie seat belts for very little tiny dogs to big ones. We get a lot of people staring at the van."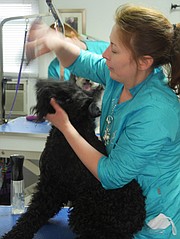 Arslanova says they also offer dog massages with Madra Mór Muds that absorb dirt and oils and toxins while exfoliating the animal's skin. They have a licensed physical therapist on staff that works on any kind of dog — older ones, those recovering from surgery or dogs who are psychologically stressed, "pretty much like people."
They started the business in 2015 with a mobile van that would groom one's dog in front of the house. But, she said, "while it was very convenient, it is more expensive for the customer than bringing the dog into the shop. The mobile van business grew so much that we added a shop at 110 S. West St. And it's good for dogs to come here with other dogs so they can socialize."
Arslanova had been a groomer for two years in McLean previous to starting the business and had worked in a number of other dog grooming shops. She started out bathing dogs and then learned the basic techniques of grooming. "I went to a lot of different seminars; there is always something new in the industry." Now Arslanova competes in grooming competitions all over the country, recently returning from California and Tennessee and heading off to Ohio in June. Sometimes she uses one of the dogs she has groomed, and sometimes she rents a dog.
Arslanova says her pet taxi is relatively new and not too many people know about it but she has regular clients who go to doggy day care daily, or for several weeks of training or periodic trips to the vet. She added the pet taxi is available seven days a week but appointments are necessary.