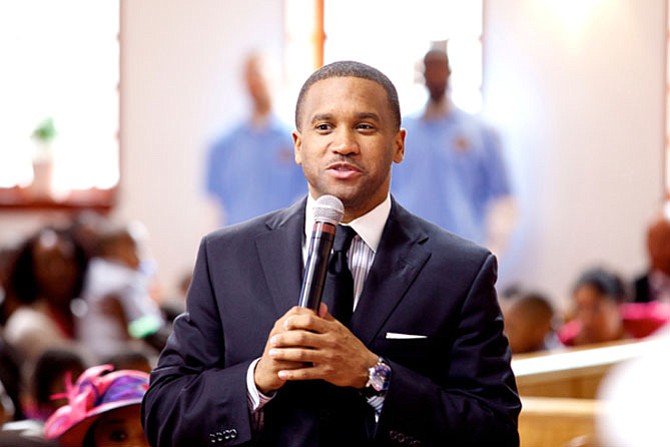 The Rev. Dr. Howard-John Wesley, pastor of Alfred Street Baptist Church (ASBC) in Alexandria was recently named a recipient of the 2016 NAACP Chairman's Image Award, "an award presented to individuals and organizations using their platforms to be agents of change in their communities."
"He is courageous about addressing issues and he makes us want to be more involved," said Beverly Overby, a deacon at the church and member for 14 years. "We know he's being led by the Holy Spirit."
He is one of eight individuals selected to receive the award this year.
In line with the history of ASBC's leaders, Wesley's decisions have gained attention outside the church. His sermon, "When the Verdict Hurts," was acknowledged in Time Magazine's July 29, 2013 cover story as one of the best sermons following the Trayvon Martin verdict. The church gained recent notice after also becoming the first, and so far, the only religious institution to donate $1 million to the National Museum of African American History and Culture (NMAAHC) in Washington, D.C.
"That Pastor Wesley led the church in donating $1 million to the NMAAHC is very courageous," said Deacon James Garrett. "[This award] is great and is very significant. It reflects the long journey the church has been on."
"As a Christian and executive I see substance in his leadership and the Biblical soundness of how he's leading," said Jennifer Jones, a member of ASBC for the past four years. "It gives the church greater visibility and influence that can be used in a positive way."
Past recipients of the Chairman's Award include U.S. Attorney General Eric H. Holder, Jr., Tyler Perry, former Vice President Al Gore, Aretha Franklin, and then-Senator Barack Obama.
"There is no way to receive an award like that and not be grateful," said Wesley during the Jan. 31 worship service. He said he is honored to be walking the red carpet with his sons in February, and encouraged the congregation to continue advocating for social justice. ASBC's membership currently stands at 7,000. The church's individuals and ministries have taken active roles in the community by recognizing local law enforcement officers, organizing events promoting random acts of kindness and running various donation drives.
The NAACP Image Awards "celebrates the accomplishment of people of color in the fields of television, music, literature and film, and also honor individuals or groups who promote social justice through creative endeavors," according to a press release.
Roslyn M. Brock, chairman of the NAACP National Board of Directors, will present the NAACP Image Awards on Feb. 5 in Los Angeles. The event will be televised live on TV One.