See more photos from the performance on Facebook.
The performance had a mix of themes, from Shakespeare to Star Wars to Downton Abbey, but through it all the Medical Orchestra and hosts kept the key focus on celebrating America's veterans. On Aug. 14, the Medical Musical Group (MMG) came together with actor Michael York and others to perform a salute to veterans and their families at the Schlesinger Concert Hall.
After the two-hour performance, families who lost loved ones in the Iraq War were invited backstage to meet with the hosts and musicians.
"Being here, to see people come out and support our men and women serving their country, it's so amazing," said Janice Chance. Chance is a Gold Star mother whose son, Captain Jesse Melton III, was killed in Afghanistan.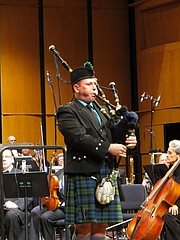 "Being here, to see people come out and support our men and women serving their country, it's so amazing."
— Janice Chance, Gold Star mother
The Medical Musical Group is an all-volunteer orchestra and chorus composed largely of medical professionals. Dr. Victor Wahby founded MMG 25 years ago and said it started off exclusively for doctors but the ranks have expanded over the years.
"A group of us in the health field are on a mission of healing on multiple levels," said Wahby. "Over the years, many of us worked in veteran care, so veterans became our core mission."
Half the seats in the audience were reserved for veterans. Wahby said he believes that music can have a healing, soothing effect on those in attendance.
"There is an enormous, unexplained power to music," said Wahby. "On our very first tour to Russia in the 1990s, people came out of their homes and put flowers up onto the stage. They told us they hadn't heard religious music in 70 years. Music, it has a taming effect."
Wherever they travel, the MMG puts out a call to a network of performers to see who is available to come and perform. The result is a mix of local artists and performers traveling from across the country. Harris Wood is an Alexandrian who's played French horn with the MMG for eight years. Wood isn't a doctor, but several of his family members are and play in the group.
"Every concert we have is designed to honor veterans and active duty personnel, so they're all special," said Wood. "It's our way of providing a visual image for the community at large to show that we care."
The concert was hosted by actor Michael York and Hilary Fordwich, president of Strelmark Business Development Consultants. York said he hosted for MMG several years ago and was excited to get the call to do it again.
"It's so extraordinary," said York. "It's a truly extraordinary thing, honoring our veterans, on the anniversary of the end of the Second World War no less."
"These doctors, the Medical Musical Group, it touches my heart," said Deana Martin, daughter of Dean Martin and one of the performers. "They come together from all these different fields of medicine and they give us this feeling of knowing what the music is all about. It brings us back in touch with the past. It just feels fabulous."