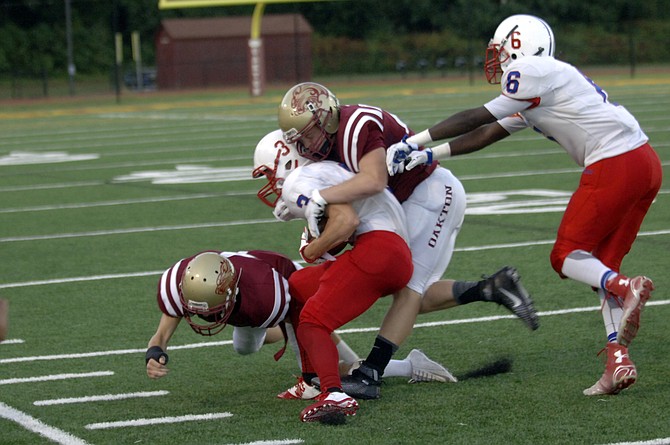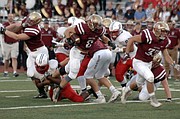 After gaining more than 400 yards on the ground during a season-opening 65-0 thrashing of Thomas Jefferson, a program that hasn't won a game since 2013, first-year T.C. Williams head football coach Marc Matthie warned the Titans that success wouldn't come as easily in the following weeks.
If Matthie didn't have the Titans' attention following their lopsided win over the Colonials, he should after Friday's performance against the Oakton Cougars.
The Oakton defense smothered T.C. Williams, forcing four turnovers while holding the Titans to 36 yards of offense and two first downs during a 24-0 victory at Oakton High School.
T.C. Williams ran the ball 24 times for just 29 yards and lost two fumbles. Sophomore quarterback Ethan Hall completed 4 of 9 passes for seven yards and was intercepted twice.
"I was really happy with the way our defense prepared all week long," Oakton head coach Jason Rowley said. "… Schematically, I thought we had a good game plan and the guys came out and just executed it. We were able to create some turnovers in the second half and [I'm] just really pleased with their performance."
The Titans picked up their initial first down on a 16-yard run by Charles Farmer on the second play of the third quarter.
"We just weren't physical enough," Matthie said. "That's basically what it is. We talked about Oakton and Westfield being a standard for physicality and we just weren't physical enough. We understand that and now have to make some plans."
Matthie is familiar with the physicality of Conference 5/Concorde District football. Prior to taking the head coaching job at T.C. Williams, Matthie spent five seasons as an assistant at Centreville and was part of three Wildcat teams that reached the big school state championship game, including the 2013 team that won it all. Conference 5 --- Centreville, Westfield, Chantilly, Oakton, Robinson and Herndon --- has produced the last four region champions.
Oakton was the more physical team on Friday, holding T.C. Williams 14 yards and zero first downs in the first half.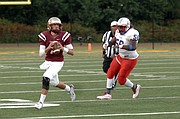 "As coach said earlier, we had a great scheme," senior defensive back Jarrett Bacon. "We knew what they were trying to do, we knew how to stop them and we just all executed and played with confidence. Once we do that, everything will fall into place."
Oakton led 10-0 when senior defensive lineman Dylan Cardelli recovered a T.C. Williams fumble at the Titans 16-yard line with 10 minutes remaining in the fourth quarter. Bacon, a standout receiver, moved to quarterback for the ensuing possession and carried the ball on three of the next six plays, including a 1-yard touchdown run that increased the Cougars' lead to 17-0 with 7:31 remaining.
"He's just hard to tackle," Rowley said about Bacon. "He's got some elusiveness to him. He always seems to fall forward. … It's just a package that we have in that works for us."
Bacon intercepted TC quarterback Hall during the Titans' next play from scrimmage. Ten plays later, Oakton running back Janar Ploompuu scored on a 2-yard run, extending the Cougars' advantage to 24-0.
Ploompuu finished with 11 carries for 93 yards. Oakton quarterback Sal Tutone completed 7 of 21 passes for 102 yards and a touchdown. Derrick Beale had two receptions for 30 yards and a score.
Junior linebacker Chris Walton had an interception for the Cougars.
Matthie said he was pleased with the effort of the TC defense, which limited Oakton to 10 points for the first three quarters despite the Cougars dominating field position. Matthie praised the efforts of linebackers Teyan Williams and Tyrese Randall.
"[The] defense played well, played physical, played fast," Matthie said. "Offensively, we didn't put them in a great position. [We] didn't get a first down in the first half. … I know that, defensively, that's something we can build on; we just need to get our offense fixed. … That's a defensive performance you can win with in the region."
Oakton improved to 2-0 and will travel to face Tuscarora at 7 p.m. on Friday, Sept. 18. T.C. Williams dropped to 1-1 and will host Westfield at 1 p.m. on Saturday, Sept. 19.