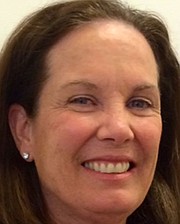 Town of residence: Alexandria district B
Age: I feel young!
Family: married 34 years, two adult children
Education: BA in Economics Trinity College
Offices held, dates:
Occupation and relevant experience: Dress Barn, Bradlee, Store Manager
Community involvement: Special needs student intern from TCW, Alexandria soccer Association age group co-ordinator and coach, softball coach, Wahoos swim team, Boy and girl scouts, PTO, CYO
Website: mimigoffforschoolboard@aol.com
Email address: mimigoff4@aol.com
Twitter handle:


QUESTIONS:
What is one issue that defines your call to serve, why does it matter, and how will you tackle it?
I have had the pleasure to work with young ladies who were new to this country and I have seen the struggles they have encountered in ACPS. College opportunities were never discussed with them and I believe that all students should understand all the options available to them so they and their parents can make a choice as to which educational path to follow. Communication and guidance is so important for all ESL students to help navigate where they want to go and how to get there. Simple one on one meetings can begin the discussion and get the student thinking about their future after graduation. I am running for school board for those students that I have mentored on various subjects as well as helping them study for the SOL's and attempting to instill confidence so they can believe in themselves. They opened my eyes!
What distinguishes you from your opponent(s) and why should voters choose you?
I have attended most of the school board meetings in the past year and have learned a lot about the current issues and the budget process. The budget is the key to the whole educational process and as a business women I am comfortable with budgets. I am not afraid to make tough decisions and I am open to compromise. I also understand the time involved. I am a 30 year City resident that wants to make the ACPS the best school system for all students,a school system in which all students thrive and learn. Our role is to provide what ever is necessary for have all students to suceed. Great schools will also bring good businesses to our community, as business growth usually follows a community with great school systems.
How can Alexandria address overcrowding within the current budgetary confines? What ideas and skills do you bring to solving this?
Over crowding is a combination of increased population in our city as well as the school board's negligence in not providing maintainence to schools as well as not providing more classrooms to meet the anticipated growth of the student population which was initally cited in 2009. We will need to rebuild or update our current schools as well as build a new high school, middle school and elementary school to accomodate our increased student population. Land to build on is a major problem and the ability to provide hundreds of millions of dollars to complete such a project will be challenging. But with a City council more inclined to education as opposed to development anything is possible. The school board will have to make difficult budgetary decisions in order to update the schools and build new schools and will be forced to stop pushing larger projects to further years. The schools need it now, 2020 will be too late. Redistricting is a short term cure for its overcrowding. I am concerned about this issue especially in the west end because of the severe overcrowding and the anticipated changes that will happen to the Beauregard corridor. Patrict Henry as a K-8 will help but that project is several years away. It is the least expensive option for now.
While the majority of Alexandria schools remain accredited, what can be done about continuing problems facing Jefferson-Houston? For incumbents, what lessons have been learned from the problem? For non-incumbent candidates, what would you have done differently?
Due to the lack of diversification at Jefferson Houston this school would benefit from re-districting. It is a K-8 school that was suppose to be an IB school that should have been full from day one. I don't know why it isn't full! Every school should be full and the answer is not to enroll students from cross town but rather concentrate on filling schools with children from the neighborhood. Busing students is an additonal expense and such funds could be put to better use elsewhere.