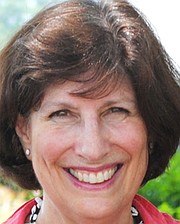 Alexandria — Residence: Alexandria
Age: 69
Family: Married with 2 grown children, 1 daughter-in-law and a 6 month old grand-daughter
Education: 1968 BA Sociology University of Minnesota, Mpls, MN; 1973 MA International Development Studies, Fletcher School of Law and Diplomacy, Tufts University, Medford, MA
Occupation and relevant experience: Public Policy Advocate in Early Childhood Development, Child Nutrition, and Parent Involvement in Education.
Community involvement: Directed 2 national coalitions promoting 1) expansion of National School Breakfast Program and 2) expansion of the Federal Infant Toddler Disability Program. Directed a statewide collaborative in Maryland promoting implementation of a neuro-scientific approach to Early Childhood Care Giving.
Website: www.lorberforschoolboard.com
Email address: lorberforschoolboard@gmail.com
Name three favorite endorsements: 1) Dana Lawhorn, Sheriff of Alexandria, 2) Sharon Shackelford and Carol Keller, Early Childhood Educators, 3)Eileen Cassidy Rivera and Mimi Carter, former School Board members


QUESTIONS:
What is one issue that defines your call to serve, why does it matter, and how will you tackle it?
I deeply believe in the mission of pubic education to help all children reach their potential, a mission that is challenged by the diverse needs of our student population at a time of increasing enrollment. It is not sufficient to celebrate diversity in our system; we must make it work for all students by providing the learning environment and strong academic program that enables all our students to succeed. Schools must be in good repair, with sufficient space to accommodate all students; teachers must have the supports essential to respond to the needs of our diverse student population, and parents must feel welcomed and empowered so they can help their children succeed. To create this environment I would place a high priority on improved planning for capital and operational needs that include a new or expanded high school, renovated elementary and middle schools, classroom supports for teachers, and more intensive outreach to parents. These initiatives should be coupled with engagement of the entire Alexandria community to develop support for the financing needed to achieve the plan.
What distinguishes you from your opponent(s) and why should voters choose you?
For 25 years, as a parent of two children who attended Alexandria's public schools and more recently as the bilingual parent liaison for our schools, I have been a passionate advocate and committed innovator to improve our programs, support our families, and promote equity and excellence in education in our city. I have been recognized for my success in improving communication between families and schools — which resulted in academic improvement — and creating a tutoring program at the high school, to support students who will be the first in their families to attend college. That leadership, combined with a track record of national advocacy for nationwide expansion of the school breakfast program and increased services for infants and toddlers with developmental delays and disabilities, demonstrate that my background and experience have prepared me well to serve on the Alexandria City School Board.
How can Alexandria address overcrowding within the current budgetary confines? What ideas and skills do you bring to solving this?
We need to do three things: first, plan for maintaining current facilities while expanding capacity. Overcrowding is affecting all of our schools from K - 12. Piecemeal maintenance without comprehensive planning has resulted in schools that are overcrowded and sorely in need of repair; second, reach out to the larger Alexandria community to help citizens and the City Council better understand our budget and the needs of our schools; third, provide confidence to the community by engaging in rigorous budget oversight, including ongoing accountability to citizens through the revived budget advisory committee.
While the majority of Alexandria schools remain accredited, what can be done about continuing problems facing Jefferson ­Houston? For incumbents, what lessons have been learned from the problem? For non­incumbent candidates, what would you have done differently?
Jefferson-Houston has a history of educational challenges, but has made progress. It is now on a course to become accredited ahead of schedule. But Jefferson-Houston also illustrates the need to be more rigorous in our approach both to achieving academic excellence and to designing and maintaining our schools. The community needs to be more deeply involved than it was in the core policy decision to create a large K – 8 school at Jefferson-Houston. Strong and consistent leadership at the top are also critical.