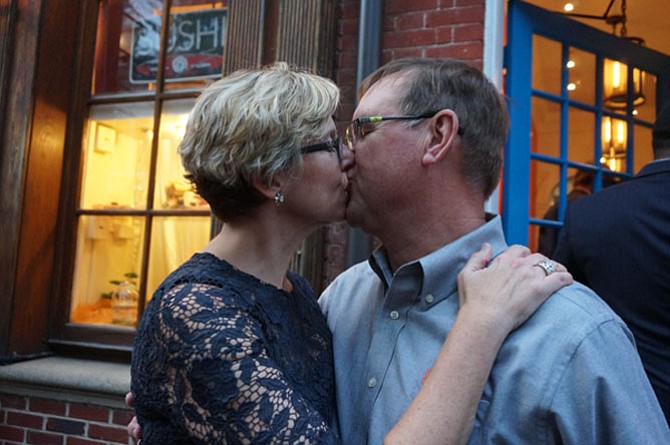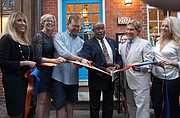 There is something new to "wine" about in Alexandria: Rick and Elizabeth Myllenbeck welcomed customers to Sonoma Cellar, a wine tasting room and bistro in Old Town, to celebrate its grand opening with a ribbon-cutting ceremony and reception Sept. 30.
Attending the ribbon cutting were Alexandria Mayor Bill Euille and Vice Mayor Allison Silberberg, along with other civic leaders and local dignitaries.
"Here in Alexandria, we welcome newly created small businesses like Sonoma Cellar and applaud entrepreneurs like the Myllenbeck's," Euille said as he congratulated the couple. "Sonoma Cellar is a unique new restaurant and wine tasting concept that is a great addition to this area. This grand opening represents continued growth for Alexandria — more specifically Old Town — which is very good for our community."
Through Sonoma Cellar, owners Rick and Elizabeth Myllenbeck will offer wine tastings and food pairings featuring hand-selected wines from more than 150 Sonoma County boutique wineries and 20 Virginia-based wineries. The bi-coastal couple will provide guests the opportunity to taste a number of varietals from these growing regions. Complementing the wine is a full bistro menu featuring California-inspired craft foods designed and prepared exclusively by Sonoma Cellar's executive chef.
In creating Sonoma Cellar, the Myllenbeck's hope to share their passion for American-made wines with the Washington, D.C. community.

"We are passionate about bringing Sonoma County and Virginia wine to the D.C. area and share what makes these wines and the wine-making process so special," said Rick Myllenbeck. "With more than 450 wineries in Sonoma County alone, and 50 varietals, that is a world of wine all located in a single, magnificent county — all of which is begging to be tasted, purchased and consumed. Our craft food menu is second to none and is designed to pair with the wine, offering a tasting experience like none other in this area."
Sonoma Cellar is also initiating a special wine club called Club SoCel, that will offer even rarer wines exclusively for wine club members.
Sonoma Cellar is located at 207 King Street. It will be open seven days a week: Wednesday through Sunday from 11 a.m. to 10 p.m.; Monday and Tuesday, 5 to 10 p.m. For more information visit www.mysonomacellar.com or call 703-966-3550.