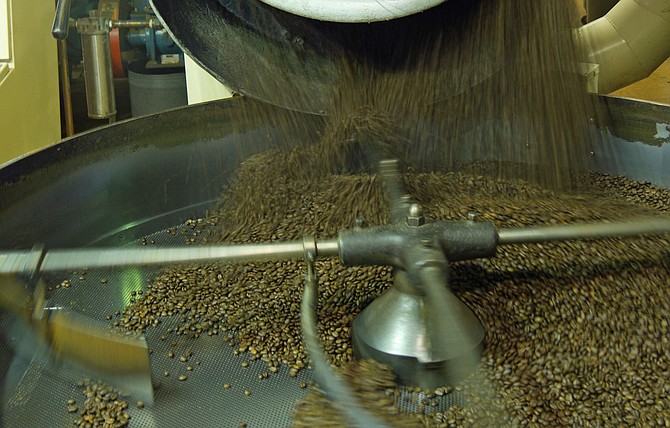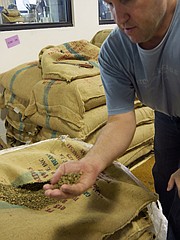 Sumatra beans giving off steam bounced out of the roaster and into the cooling tray. Sumatra beans in their raw form are a mushroomy, earthy bean. Scott Mosel, head roaster at Swing's Coffee Roasters on Monroe Street in Del Ray says, "These beans just reached first crack. Coffee beans are similar to popcorn where the kernel gets hot and expands." The batch of Sumatra beans has taken about 10 minutes to finish roasting on this rainy Thursday morning. Mosel says, as the roast proceeds, he knows just when to slow it down. "We reduce the heat so that we can caramelize the sugars but without burning. Every time you roast it's a process of discovery. There are so many variables; each day the bean gets older — humidity, temperature so every roast is slightly different."
The beans rotate on the stainless steel cooling tray dotted with holes so that the air can draw down and cool the beans. The tray has been cleaned well. "If the holes are clogged up, there is less cooling." Large cooling arms wipe off beans as they revolve around the tray. In about 3-1/2 minutes the beans will be cooled to room temperature which today is 65 degrees. "See you can pick them up now," he demonstrates as he grabs a handful.
The next step is to change the direction of the airflow and to set the width on the destoner so that stones too heavy or bigger than a bean can't travel up the hopper to the storage container. The 100 pounds of beans that went into the roaster came out at about 83 pounds, mostly due to loss of water. When Mosel is ready to use them, the beans will shoot down the hopper into a large storage bin. Today Mosel is mixing espresso beans, a combination of South American, Central American, and Indonesian. They will be roasted again and mixed well together.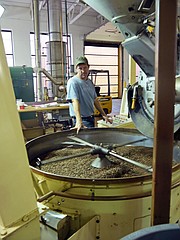 "The more you mix them the better; you don't want someone to get a cup of all one kind of beans," he said. "It's like a recipe, and I can't tell you anymore." These espresso beans are used to make lattes and cappuccinos, the customer favorites for the approximately 300 cups of coffee sold every day.

"They are waiting for my beans that are being used immediately." He points across the room to Rosa and Rosario who are filling 12-ounce brown bags for wholesale distribution. A flat with 40 boxes of beans sits ready for the forklift. They will end up on the truck in the alley for a large hotel on 7th Street in D.C. "That is also part of my job. I'm the manager of the back of the house which means I keep track of the inventory of beans, paper products and supplies for all of our customers and our other busy store at 17th and G right by the White House."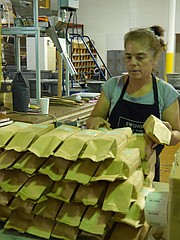 Mosel arrives around 6:45 a.m. and turns on the roaster that takes 45 minutes to one hour to get to the right temperature. "You don't want a cold roaster." He says Mondays are the busiest here; they roast over 2,000 pounds of green coffee so it is fresh for the customers. Friday they do as little as possible because they don't want the beans sitting around.
Mosel says coffee drinking has changed from the days when coffee was industrial and people drank it at home. "Now Americans are doing what Europeans have done for a long time, perfecting the art of roasting on a smaller scale and in a fresher form. People love fresh and find they can't go back." He says that's why they have an open cupping on Fridays for the public. "We have a theme like Ethiopia or Central American coffees." Mosel says it's a process of discovery; the more people try, the more they discover their tastes. "They come in and taste something new and go 'wow'." And he adds that "Port City Brewery is making a stout using one of our coffees."
Mosel's own favorite coffee is Salvadoran which is a dark bean, citrusy and chocolatey. But he adds that his father-in-law owns a coffee farm in El Salvador so ....." He says he has also learned to like Ethiopian which tastes like berries when roasted lightly."
Mosel has been at Swing's for six years where he began in an apprenticeship program. "It takes a good year to be comfortable." Mosel heads back to the roaster to make another batch of espresso. The winter season is just beginning, and customers peer through the large windows behind the coffee line to watch the beans being roasted for their cup of coffee. "Just like Krispy Kreme, hot off the line," says Mosel.