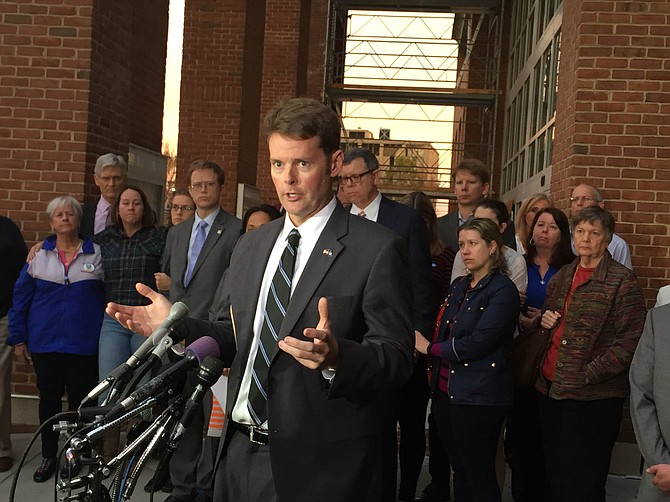 The jury had been dismissed over the weekend, but it barely took an hour of discussion on Nov. 2 to come back with a verdict in the case of Charles Severance, accused of three murders in Alexandria: guilty on all 10 counts.
Severance was accused of the murder of real estate agent Nancy Dunning in 2003, transportation planner Ron Kirby in 2013, and music teacher Ruthanne Lodato in 2014. The four-week trial analyzed what Commonwealth Attorney Bryan Porter described as a "mountain of circumstantial evidence." The trial largely centered around Severance's writings, the account of a woman who was injured in the Lodato murder, and the rarity of the ammunition used in the crime.
Before the jury recommended a sentence, representatives of the families of each of the victims gave impact statements, conveying to the jury just how much Severance's actions had cost them. Lucia Lodato, the oldest of Ruthanne Lodato's three daughters, said that she had lost her role model.
"I was 32 years old when mom was killed," said Lucia Lodato. "While she was technically finished raising me, she was far from finished being my mom. She was still the person I called when I was sick and upset or needed to be comforted."
Lucia Lodato said that her heart breaks when she realizes that her mother won't get to see her youngest daughter graduate from college, won't get to enjoy her "golden years" with her husband, and won't get to spend time with her grandchildren.
"I'll tell you this: we won't speak of the horrible and inexplicable way she died," said Lucia Lodato. "We will remember her the way she lived: focusing on music, faith, and loving family above all else."
Ruthanne Lodato's husband, Norman Lodato, described the physical, financial, and emotional pains he has suffered after her death. Norman Lodato has lost his job following his wife's murder because he found himself unable to concentrate on his work.
"Each night when I get home, I'm extremely sad that Ruthanne isn't there to share my day with," said Norman Lodato. "I long for a normal day, where the pain is not so great … There is no way I can convey to you what Ruthanne has meant to me. She had grit, determination, and loved to have fun. She loved to laugh, loved children, music, the arts, people in general. She was the best mother and partner. She had a strong faith, and she lived it. She believed in teamwork and hard work. She loved me, and for that I am truly grateful. She was a force that can never be replaced or forgotten."
Anne Haynes, wife of Ronald Kirby, took the stand and brought a picture of her with her husband just after he'd given her a bouquet of flowers for her birthday.
"There will never be another Ron Kirby," Haynes said. "He was an extraordinary human being with unique skills ... He was also the handsomest man I've ever met. He had a beautiful smile. When our romance began, I was overwhelmed when he told me he loved me. He was the love of my life … he was everything to me. I'm devastated by the loss of his life in such a senseless way. We had talked about growing old together, and now I will be growing old alone."
Haynes recalled that her last conversation with Kirby, the day of his murder, was over the phone. Haynes was stuck in an area of Fairfax she was unfamiliar with, and Kirby had been giving her directions over the phone.
"The last thing he told me was 'call me if you get lost.'" said Haynes. "I'm truly lost without him."
For the family of Nancy Dunning, the jury's verdict was the end of a mystery and an ordeal that lasted over a decade. When the jury returned the guilty verdict, Elizabeth Dunning, daughter of Nancy Dunning, wept and embraced her brother Chris Dunning. In addition to resolving the murder of their mother, Elizabeth Dunning said after the trial that the verdict clears the cloud of unfair suspicion that had haunted her father. James Dunning, an Alexandria Sheriff and wife of Nancy Dunning, had been considered a suspect by detectives early in the investigation. James Dunning died in 2012 at his South Carolina residence. When asked afterwards about the suspicions surrounding James Dunning, Porter said that it had been a difficult situation.
"In 2005, I couldn't tell you what I would have thought," said Porter, "but from the bottom of my heart, I'm happy to remove this cloud of suspicion."
The Dunning family requested privacy to move forward with their lives, but during the impact statements, Elizabeth Dunning shared a reflection on how her mother's murder had impact her life.
"We miss her more than I can say," said Elizabeth Dunning. "She never met my husband or my boys. It breaks my heart to imagine all the ways she would love and support them. I can see the shape of that absence as clear as any object in this room… Someday, I'm going to have to tell my boys about their grandma about what happened here. I want to tell her boys that they don't need to be afraid, that this evil man won't be able to hurt them."
For the Alexandria Police, the verdict brought three of Alexandria's most infamous unsolved murders to a close.
"I am extremely proud of the dedicated men and women of the Alexandria Police Department and the time and effort they put in over the course of 11 years to bring these three cases to trial," said Alexandria Chief of Police Earl Cook. "Thankfully, this verdict officially gives closure for the families of Nancy Dunning, Ron Kirby and Ruthanne Lodato."
James Entas, one of the two Assistant Attorneys General, closed the prosecution with an argument for the maximum sentence.
"It is fitting that you deliberated over Halloween, because you have delivered justice to a monster," said Entas. "He did accomplish what he set out to do; to deliver chaos and terror to the elites, in his words, but [also] to the entire city… The only way to finish your job of delivering justice is to give the defendant every second of every minute of every day and every penny of every dollar of every fine."
Chris Leibig, an attorney representing Severance, tried one last time for the jury to see Severance as more than a killer.
"You've heard a lot about evil and monsters and such," said Leibig. "Some people want there to be monsters and evil, but even if there, Mr. Severance is not that. People are born with a condition, it's not their fault."
But the jury was not feeling merciful and recommended Severance be given three life sentences, plus 48 years, and fines of up to $400,000. According to Porter, the death penalty had been considered in the case but was ruled out due to the mental health component of the case. Final sentencing will take place on Jan. 22.