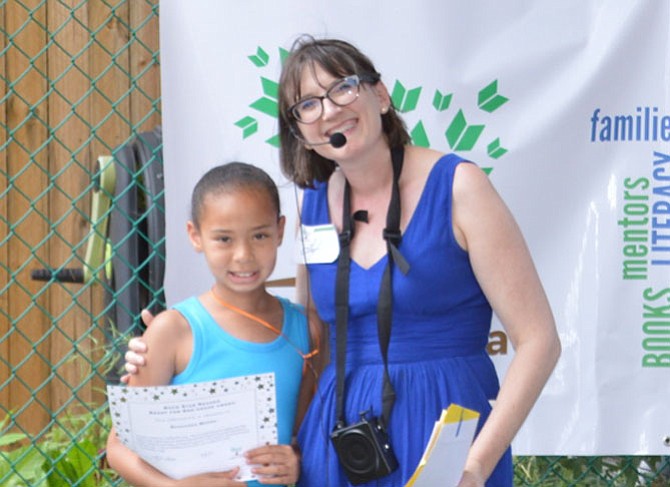 Wright to Read welcomed more than 50 Alexandria City Public Schools students with their families and their Wright to Read tutors for the Annual Celebration Picnic on Saturday, June 6. The sunny afternoon in the organization's yard featured food; fun and games; giveaways of books, bookcases, and desks; and recognition of each child's reading achievements.

This year's picnic included the presentation of a donation from Alexandria's Kids Helping Kids. On LemonAide Day, May 16, more than 100 local children operated nearly 40 lemonade day stands throughout the city, raising more than $18,000. The Kids Helping Kids Junior Board after researching local charities chose to split the proceeds between Wright to Read and another mentoring organization, A Space of Her Own.
The day's activities capped off with recognition of both outgoing Executive Director Leigh Nida and introduction of the organization's new Executive Director Peggy Morrison-Curtis. Volunteer and Outreach Manager Luisa Reyes was also recognized for her on-going contributions.
Created in 1979 and operated as a program of the Frank and Betty Wright Foundation until incorporation as an independent charity in 2012, Wright to Read's mission is to provide volunteer-based, one-on-one sustained tutoring and mentoring relationships to City of Alexandria children in need to collaborate with families, schools, and community partners to create a comprehensive support network that guides each child to success.
For more information, contact Peggy Morrison-Curtis, peggy@wrighttoread.org.