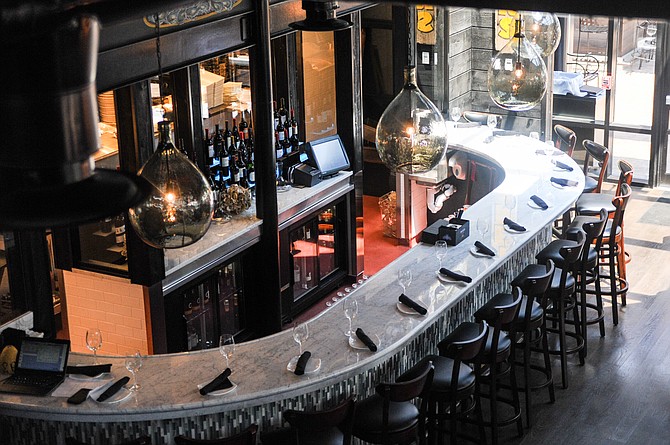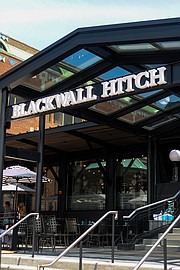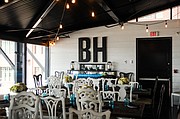 The Blackwall Hitch restaurants are named for a type of nautical knot used by immigrants that sailed out of London's Blackwall Port in the 1860s. They would dock in Maryland and Virginia.
"We thought we would build our restaurants along the same line that the ships that came in," said Susan Parker, Blackwall Hitch's director of marketing. The restaurant just opened its second location in Old Town inside of what used to the Torpedo Factory food court. The other location is in Annapolis.
The restaurant's menu features American cuisine with influences from the Chesapeake Bay. Prawn roasted with Old Bay butter, crispy soft-shelled crab served with tabbouleh, an oyster bar, and more, are all locally-sourced when appropriate. A new specialty cocktail menu was introduced shortly before the opening of the Alexandria location featuring "The Dirty Hitch," which includes tabasco and bleu cheese in it ingredients and a seasonal sangria.
The décor is meant to convey an upscale look with a casual, nautical twist, said co-designers Bobbi Nock and Tammy Ray. The 10,000-square-feet, two-level location has been outfitted with quartz flooring in the foyer, cedar-wrapped walls, reclaimed and restored tables and chairs, antique elements and replica Edison lighting.
Blackwall Hitch-Old Town is located at 5 Cameron St., and is open 11 a.m.-12 a.m. Monday-Wednesay, 11 a.m.- 2 a.m. Thursday-Saturday, and 10 a.m.-12 a.m. on Sunday. Visit www.theblackwallhitch.com for more.