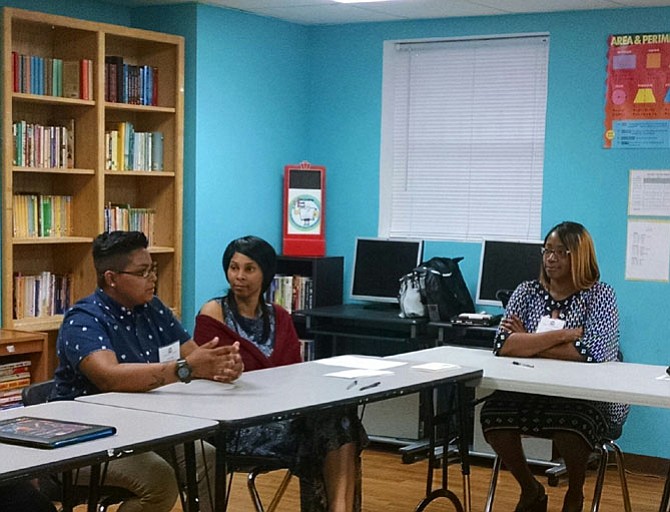 Community Lodgings seeks to promote self-sufficiency and break the cycle of poverty in the city. In operation since 1987, the nonprofit founded by a collective of Episcopal churches works with families to create stability.
"I don't think anyone chooses to be homeless," says Jasmin Witcher, director of development, "if you are fortunate enough to have a roof over your head, not to have to worry about feeding your family, then it's your responsibility to help."
Participants in Community Lodgings have access to not just housing — the organization has six transitional housing units and 38 low-income housing units — but a variety of other services that set people up for long-term success. Residents have access to family counseling, budgeting and employment skills training. Children are able to attend the Youth Education programs, which provide enrichment and support services.
"I grew up in a single parent home in the inner city," said Executive Director Lynn Thomas, "and my mother relied on programs like Community Lodgings. It's important to know you have someone you can rely on."
Cindy Lopez, a program assistant in the after school and summer program, is in her second year serving youth with Community Lodgings as an AmeriCorps member. Attending NOVA for electrical engineering as well as working with the children, Lopez extended her year of service with AmeriCorps after seeing the difference she made.
She's also a graduate of the program. "Cindy is the face of the Community Lodgings Youth Education Program," said Thomas. "The kids and families all respect her. If she says come here at this time, they show up, even if they don't know what it's for."
Alexandria residents are connected to Community Lodgings through their contact with domestic violence and homeless shelters, the courts and correctional facilities. The transitional housing units are available to families, often headed by single mothers who qualify for up to two years.
Community Lodgings benefits the people it serves by weaving together access to different services. Charlyne Braxton, the transitional housing case manager, oversees the residents participation in Community Lodgings' programs and connects them to municipal and faith-based organizations that distribute additional food when resources run low.
Instead of a lease, residents sign an agreement which outlines the pathways to independence that they will use — such as finding and maintaining employment, saving a percentage of their wages, utilizing the counseling and life skills classes, and staying free of drugs and alcohol. The staff at Community Lodgings provides resources and tools for residents to gain a foothold as they cultivate these skills.
As the gap between poverty and the middle class widens, and the deficit of affordable housing units in Alexandra is estimated to by 3,650, Community Lodgings has extended its reach this year by adding two Youth Education Centers – the Fifer Learning Center Annex, just up the street from the original Fifer Learning Center on Notabene Drive, and Brent Place Learning Center facility in the West End.
The organization is also in its second year of offering a Youth Job Readiness Program headed by Braxton, which walks high school students through all the skills required to obtain employment with a series of workshops. They learn how to fill out an application, prepare for the interview process, how to understand paychecks, take deductions and save money.
Braxton says of the teenage students who participate that they come to her and say, "I want to work, I want a job." They have found placement in jobs with Alexandria Services, working as receptionists, recreation aides, and other opportunities.
Board Member Susan Fitzpatrick, who has been involved with Community Lodgings for the past four years, as a volunteer and now a board member, is excited about the growth that Community Lodgings programming has seen, and believes that as it expands, it "stays true to the mission modeled after the original learning center here."
The staff of 12 at Community Lodgings functions with the support of AmeriCorps members and volunteers to carry out its mission, on an annual budget of $1,655,409. They rely heavily on the involvement of volunteers to provide their services.
Open Doors Tours are held the first Wednesday of each month at 6:30 p.m. and the third Thursday of each month at noon at the Fifer Family Learning Center at 607 Notabene Drive, Alexandria. Call 703-549-4407 for more information or to register for an upcoming tour.