Photo Gallery
Spring2Action 2015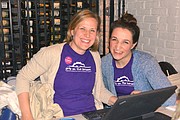 Click Photo for Flash
Alexandria's annual online giving day, Spring2ACTion, generated $1,276,909 for 129 Alexandria nonprofits in just 24 hours on April 22.
In 2014, Spring2ACTion raised a little over $1 million from 7,500 individual donors. This year, 9,431 individuals joined forces with local restaurants and boutiques to participate in the crowd-funding event. Hosted by ACT for Alexandria, Spring2ACTion is the only citywide giving day in the region designed to strengthen the impact of local nonprofits.
As part of this citywide giving day, nonprofits had the opportunity to benefit from the proceeds of sales contributed by the Old Town Boutique District and stores in the Del Ray Business Association as well as from local restaurants including Holy Cow, Pork Barrel BBQ and Sweet Fire Donna's.
For the fourth year in a row, Casa Chirilagua won first place for most dollars raised with $90,965 from 595 unique donors. The Maury Elementary Parent Teacher Association won first place for most unique donors, with $75,373 raised by 859 donors. Both organizations won $5,000 grants for their organizations, with the second place winners in each category winning $2,500 grants.
Spring2ACTion was sponsored by the Maury Lane Fund, Lauren Stack, The Bruhn-Morris Family Foundation, the Mason Hirst Foundation, Harry and Maria Hopper, Speck-Caudron Investment Group of Wells Fargo Advisors, Neuhaus-Speck Family Foundation Fund, and the Frantz Family Fund. Community partners include Alexandria Economic Development Partnership, the City of Alexandria, Causetown, Alexandria Chamber of Commerce, SpottedMP, Six Half Dozen Design Studios, Old Town Boutique District, Del Ray Business Association, Holy Cow, Sweet Fire Donna's, Pork Barrel BBQ, Sugar Shack Donuts, the Alexandria Arts Forum, Whole Foods, Virtue Feed & Grain, Dulce Studios, and Visit Alexandria.