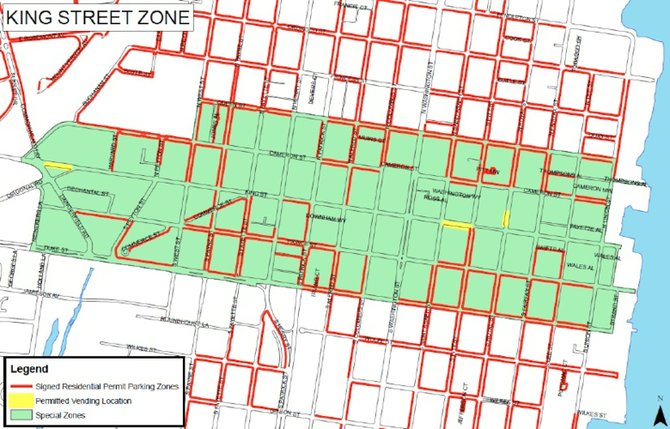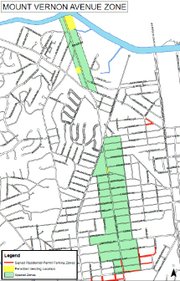 How It Would Work
Under a proposal City Council members will be considering this weekend, food trucks would be able to set up in most parts of the city. That includes most residential neighborhoods in Alexandria, as long as they adhere to the same parking restrictions that apply to other vehicles. They would be prohibited from most areas with residential parking zones as well as newly created protected areas in Old Town and Del Ray. City officials also plan to create four new vending zones, which would have designated spots that would be set aside for food trucks.
Audio clip
On the Radio
City Council members are bracing themselves for a massive food fight this Saturday, when elected officials will take up a divisive proposal to allow food trucks in Alexandria. The issue has been cooking since last spring, when City Manager Rashad Young appointed a 10-member task force of stakeholders to look into the issue and make recommendations. That group has yet to issue a report, but city officials are moving forward with a proposed ordinance anyway — a controversial proposal that would allow food truck vendors to set up in residential areas almost anywhere in the city.
"If I were a civic activist right now I would go home and call everybody in my neighborhood association and I would gin up a tidal wave of opposition to this," said Planning Commission Chairman Eric Wagner. "None of us thought that our residential neighborhoods ought to be bastions of activity for restaurants."
The work group will not issue its report before Saturday's public hearing, and the Planning Commission will not take a vote on the controversial proposal. During a discussion of the issue Tuesday night, several members of City Council indicated they don't think the proposal has been fully baked. Councilman John Taylor Chapman suggested that council members limit the proposal to a pilot project allowing food trucks at farmers markets. But a majority of the members disagreed, preferring to docket the entire proposal before citizens. That way they can take action later without hearing from members of the public again.
"Right now, we are opening this up to everything," observed Chapman. "Why throw what is good policy in with what we are still working out?"
THE PROPOSAL would allow food trucks from 7 a.m. and 8 p.m. with some restrictions. For example, they would be prohibited in residential parking districts. They would also be banned from high-traffic areas and pedestrian areas, which include most of King Street and Mount Vernon Avenue. Four newly created vending zones would be created with reserved parking for food trucks — four in Old Town, one in Del Ray and one in Carlyle. Although other parts of Old Town and Del Ray would be protected from food trucks, Carlyle could have food trucks in the vending zones as well as any other parking spot.
"They could park anywhere in Carlyle where they could get a meter," said "Mango" Mike Anderson, a restaurateur who was a member of the work group. "Last year, food tax revenues were down so the restaurant industry in this city is not that strong right now, and I don't think we want to do anything to upset that apple cart."
Food truck advocates say the vehicles offer a low-cost alternative that give consumers more choices. They have become trendy across the country, and local governments in the region have been creating new regulations allowing them in recent years. Arlington and Washington, D.C., for example, have both changed their rules to allow more food trucks for longer period of time in recent years. Now the vendors want to truck into Alexandria.
"We never asked to be in residential areas," said Che Ruddell-Tabisola, executive director of the DMV Food Truck Association. "We want to be where the customers are, and that's in commercial areas."
ALTHOUGH IT NEVER issued a report, members of the task force did vote on a number of issues. One of them was a proposal to allow food trucks on the Royal Street side of Market Square. Five voted in support and four voted in opposition opposed. But when city staff presented a PowerPoint presentation to City Council members, the slide with the headline "King Street Vending Zone" explained "all agree" allowing food trucks on the 100 block of North Royal Street.
"It makes people like myself question why I'm going to all these meetings on the waterfront," said Charlotte Hall, vice president of Potomac Riverboat Company and chairman of the Waterfront Commission. "Is the staff just going to move forward on their own ideas without taking our thoughts and ideas forward?"
The proposal on the docket for this weekend sets out a series of fees that food truck vendors would be responsible for paying. First, there would be an application fee of $100. That would have a renewal fee of $100. Then there would be a right-of-way fee of $450. That's in addition to an annual food license fee of $40. Vendors would also be responsible for an annual health permit of $50 and a semi-annual propane tank inspection fee of $143. Brick-and-mortar owners say they have invested substantially more to open their establishments.
"While the Alexandria chamber supports the food truck concept, that support does not come without reservations and questions that have to be answered," according to a written statement from the Alexandria Chamber of Commerce this week. "Therefore, the chamber recommends that council's consideration of the food truck issue be deferred."
The chamber is calling city leaders to wait until the work group issues its report before taking action, then conducting a business impact analysis to see what the ramifications of the new policy might be.