Since the Center for Alexandria's Children opened in 2007, a number of dedicated individuals has kept its child abuse education and prevention programs running, growing and thriving.
Three of these individuals will be honored at its Fifth Annual Gala Benefit on Friday, Feb. 28, at Virtue Feed & Grain in Old Town. The organization hopes to raise more than $120,000 at the gala, which is its biggest fundraising event of the year. Center staff, volunteers and affiliates will take some time at the event to honor some key players in the Center's history.
Deputy City Manager Debra Collins was one of the city officials who presented the idea of a child advocacy center to Alexandria Community Trust. She came to the City of Alexandria in 2003 with ideas of how a center could streamline and centralize all the services required to address child abuse cases. She will be presented with the 2014 Outstanding Dedication to the Children Award.
The two recipients of the Center's 2014 Champion for Children Award are business leader Nigel and Lori Morris. Nigel served as chairman of the board of the Center from 2006 to 2013. His wife, Lori, is a current and founding board member of ACT, which was crucial in establishing the Center.
CAC Executive Director Giselle Pelaez said the Center would not have ever come to fruition without Collins, and its progress and programming would not have been possible thus far without the Morrises.
"The growth and development of each of our programs has been profound," Pelaez said. "We received full accreditation as a National Children's advocacy center in two years. This speaks to the dedication of Debra Collins' support, whose top down support of the whole idea of having a children's advocacy center helped make this happen."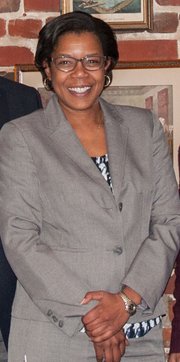 Collins shared ideas for the center from her experience with the Erie County government in upstate New York. "I was very fortunate that when I came to Alexandria, it was around the time they were forming this thinking," she said. "There were a number of city departments that had been meaning for a couple of years to address the idea of a child advocacy center. I was able to talk to them from a boots on the ground perspective of having come from a community with a working child advocacy center."
Collins said ACT was integral in getting her ideas set in motion. She gives much credit to Lori Morris, who is also chair of ACT's Community Investment Committee, with making the center happen.
Like Collins, Lori Morris also said that it has taken many dedicated people in Alexandria to get the Center launched and in operating mode.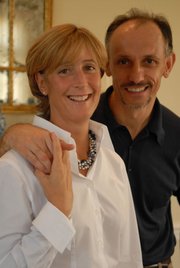 "This was very much a group effort," Lori Morris said. "The idea of the center came from Debra Collins and the city. The city had actually been working on it quietly, and Debra brought it to ACT, our city's community foundation, of which I play a role in developing program. ACT is a convener and a catalyst, and ACT was able to say 'if this is something you really want, we will help bring the right people around the table to make it happen.'"
As a part of ACT, she helped plan the Center, secure funding for it and establish partnerships that made it all possible.
"ACT played the very critical role of being the backbone organization for this effort," Lori Morris said. "They held it together, they brought the right people around the table and they hired a consultant to help form the concept. They also helped get initial funding grants, and at the time ACT's executive director Jonelle Wallmeyer acted as an initial CEO. ACT helped form the board, hire and pay for the first director, and launched it. I was thrilled to work with ACT through this process."
Lori Morris leads the Center's Playgroup Steering Committee, which created the Learn and PlayGroup Curriculum for all the playgroups that CAC offers.
"I have watched the playgroup program go from providing three playgroups to 10 playgroups in the community," Pelaez said. "Now with playgroups, we are serving over 600 children, and their families, per year."
The curriculum of the playground sets out to help parents and caregivers ensure that children have meaningful, healthy fun.
"Now we are really able to focus on prevention of child abuse, and that is because of all the work that was done establishing the Center and forming critical partnerships and support around it," Lori Morris said.
The Center works cooperatively with police, therapists, social workers, the courts, schools and medical professionals. They operate jointly when someone calls with an emergency or potential case of abuse.
Nigel Morris is founding chairman of the board for the CAC. As co-founder of Capital One Financial Services, he provided business experience and corporate expertise to help with funding and logistics of the center. He served as chairman of the board for seven years, wanting to stay in his position until he saw the national accreditation of the Center.
"As board chair, it was very gratifying to hear from members of the CAC's multi-disciplinary team that the Center has truly changed the way cases of child abuse are handled in the city," Nigel Morris said.
"Even if the Center for Alexandria's Children ceased to exist, there are agreements and protocols in place across city agencies to ensure that children and their families receive a best practice, coordinated response whenever abuse is disclosed," he said.
Pelaez said all three recipients of the awards have been critical in the mission of the Center.
"We are seeing so much growth and we have to give credit to Lori Morris for really helping us to grow with her foundation strategizing playgroup efforts," Pelaez said. "She was really critical, pulling all of her contacts that were experts. Of course Debra Collins and the children's advocacy program. Without her, we wouldn't be anywhere without we are. Nigel's part as chair has also just been huge."
Pelaez hopes to see even further progress in the child abuse education prevention programs.
"We have a very, very strong children's advocacy program where identified victims of abuse are going to get support," Pelaez said. "But then there is our education, outreach, prevention — like the playgroups. I'd like for us to impact more children and more families in the community. Through play group programs, sexual abuse prevention education, and the provision of child safety with partnerships with the police and the county, we are actually working with the entire community."
She said all three recipients of the Center's fifth annual awards have done so much for the Center, and she is excited to both honor them and to celebrate a successful season of fundraising.
"I'm excited about it and I think we are going to surpass our goal of raising over $100,000," Pelaez said. "This year is a big one for us. Not only is it our fifth [gala], we are taking a moment to honor our beginnings. It is exciting to say that we have been impacting an increasing number of kids each year. So, [it is] fitting that this gala is taking a moment to honor those beginnings, saying that there is no way we would ever be where we are without Nigel, Lori and Debra."