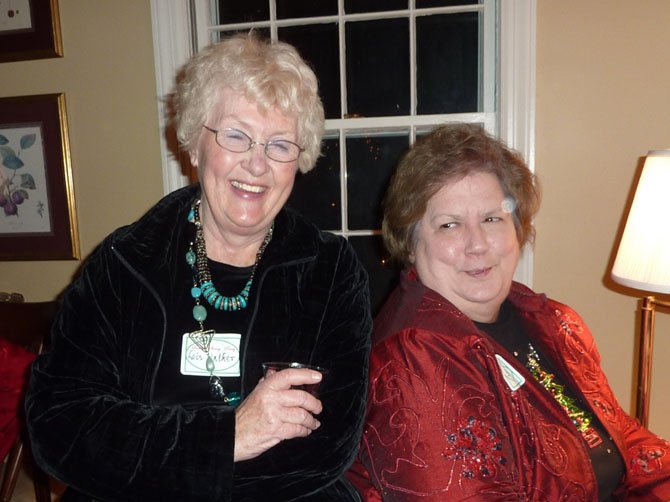 Celebration of the Life of Lois Walker 1939-2013
Join friends, family and colleagues as we celebrate the life of Lois Walker, two-term former City Council member. Saturday, Oct. 26, 6-9 p.m. at Torpedo Factory Arts Center, 105 N. Union St. Questions, RSVP, or condolences to Boyd Walker, boydwalker2012@gm..., 703-732-7269.
Alexandria — When Lois Walker was named a Living Legend of Alexandria in 2010, she was asked about the key to her success.
"You just do it," she told interviewer Sherry Wilson Brown. "Sometimes it is almost civil disobedience. Sometimes you have to nag, well, more politely, 'remind' a lot so you don't get lost in the shuffle. You just have to stay focused on what you are trying to achieve and keep pushing. If you are not willing to nag a little, I just don't think you care enough."
There was never any doubt that Walker cared about the City of Alexandria, a place she called home for over 40 years. On Sunday, Oct. 13, the former City Council woman died in Kayseri, Turkey after contracting pneumonia while on vacation. She was 73.
"Lois was an important and beloved part of the civic and cultural life of Alexandria for over 40 years," said Vola Lawson, who was City Manager during Walker's two terms on City Council. "I greatly enjoyed working with her. Her tragic death leaves a hole in the heart of the City."
Born Lois Larsen on Dec. 30, 1939 in Ogden, Utah, Walker and her four siblings moved often because of their father's work that included two stints in Japan.
"We lived all over the world," said Carol Bringham, Walker's older sister. "Lois was always a very happy person but she really found her passion when she came to Alexandria."
The last family move would be to Arlington, where Walker graduated from Washington and Lee High School before attending Valparaiso College and George Washington University. She married real estate investor John Walker in January of 1964 and settled in Alexandria in 1968 to raise a family.
"Lois loved Alexandria," Bringham said. "This city was very important to her and it was important for her to give back to the community."
Walker worked on several political campaigns, including Marian Van Landingham's first election to the Virginia House of Delegates, before embarking on her own political career.
"Lois always thought she could be of service to Alexandria," Bringham said. "But it took a number of years before she decided she could give more to the community by running for public office herself."
Walker served from 1994 to 2000 on City Council, representing Alexandria on numerous regional transportation bodies, including the Washington Metropolitan Area Transit Authority Board of Directors, the Northern Virginia Transportation Commission, the Northern Virginia Transportation Coordinating Council and the Metropolitan Washington Council of Governments' Transportation Planning Board.
"During her two terms on City Council, Lois was the transportation expert," Lawson said. "She advocated for an effective multi-modal transportation system and for regional and state coordination. She served on and chaired several key regional and state transportation and urban planning commissions. But she also took great pride in her family, and was a loving and supportive mother to Donna and Boyd, and a proud grandmother to Boyd's daughter Alo and Donna's sons Tobin and Tyler."
Widowed in 2000, Walker took over as president of Walker Real Estate and was an active member of the National Trust for Historic Preservation. She was a recipient of the Marian Van Landingham Legislation and Public Policy Award from the Alexandria Commission on Women, served as chair of the Alexandria United Way campaign and was a founding president of the Friends of the Torpedo Factory Art Center.
In addition to Bringham, Walker is survived by her son Boyd, of Alexandria, and daughter Donna Walker James (Tobin) of Falls Church. Other survivors include brothers Joel Larsen (Judy) of Vermont, and Gary Larsen (Sharon) of Connecticut. She was predeceased by a sister, Nancy Larsen Turner, also of Alexandria. Grandchildren include Alo Lenk-Walker, 16, and Tobin Jr., 17, and Tyler, 14, James.
"I have been stopped on the street by complete strangers to express their sympathy," Bringham said. "Lois knew everybody, from people that needed help to those that were important in the city. She really was a very special person. It's unbelievable that she is gone."
Cards and flowers may be sent in care of Carol Bringham, 1115 Cameron St., #104, Alexandria, Va. 22314. A memorial service is planned for Oct. 26 at the Torpedo Factory Art Center from 6 to 9 p.m.
"Lois touched a lot of lives and leaves a great legacy of commitment and dedication," said Vice Mayor Allison Silberberg. "But we didn't have time to say thank you. We didn't have time to say goodbye. Hopefully she knew how much she meant to us."