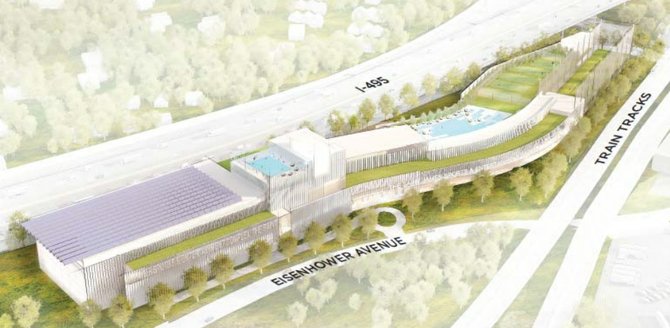 St. James Proposal
80,000-square-foot field house
Four batting cages with automatic pitching machines for baseball and softball
Four NCAA regulation-sized basketball and volleyball courts
aquatics enter including Olympic-sized pool, therapy pool, water park play area
Two NHL regulation-sized ice rinks for ice hockey, figure skating and synchronized skating
15,000-square-foot gymnastics training space
20,000-square-foot of rock climbing and bouldering walls
Year-round golf driving range and indoor training center
Six indoor tennis courts
Eight international squash courts
30,000-square-foot health club
Child development center with daycare and short-term childcare
Should a stretch of public land in the Eisenhower Valley be transformed into a private sports complex?
That's a question before city leaders now considering an unsolicited proposal to transform a 15-acre city park into a sports complex. In October, City Manager Rashad Young is expected to issue a recommendation on whether or not the city should issue a request for proposals that would allow the process to move forward. City Council members will have the final say about whether or not the city wants to consider handing over city property to a private developer.
"I think this could potentially be a fantastic thing for the city," said Mayor Bill Euille. "I just don't want us to caught being accused that we rushed to judgment."
Hensley Field is currently one of the city's most popular recreation sites, with three baseball fields and one multi-purpose field. Nestled between the Capital Beltway and Eisenhower Avenue, the field is west of Cameron Run. Last month, a developer known as the St. James Group submitted an unsolicited proposal to construct a new entertainment and recreation facility on the city-owned property. If the city issues a 40-year lease to the developer, the public property would be used for private gain.
"They will be charging an admission fee to use a building that was built on public land," said Katy Cannady, a critic of the proposal who lives in Rosemont. "It would also be built at a location that would encourage a lot of people to come over from Fairfax County."
THE UNPRECEDENTED PROPOSAL for the 15-acre site includes aquatics, ice rinks, field house, baseball, basketball, racquet, golf, climbing, gymnastics, track, wellness services, childcare and retail. It would include the city's first Olympic-sized pool. It would have basketball courts contracted to regulation of the NCAA and ice rinks contracted to regulation of the NHL. From gymnastics to golf to squash, the facility would be a regional attraction for all kinds of sports enthusiasts.
"Most of the emails right now are from people who are affiliated with youth or adult sports organizations and are excited about he possibility or having additional ice skating rinks or additional soccer fields," said Councilman Justin Wilson. "But there's definitely some concerns out there about the trade offs with open space."
But if the city were to allow St. James to develop on its land, Alexandria leaders would be agreeing to diminish the amount of open space in the city. The decision comes at a time when council members recently ditched a dedicated source of funding for purchasing new open space.
"Right now this is public land for a public park for the public good," said Vice Mayor Allison Silberberg. "It's not like we are growing land like some people grow beef."
THE DECISION NOW BEFORE council members is whether or not the public would benefit from allowing Alexandria land to be used for private profit. In exchange for handing over property owned by the citizens of Alexandria, the city government would receive whatever money is negotiated as part of the lease agreement. And the city's treasury would also receive income from taxing the structure in addition to money from the sale of food and retail items.
"There are really broad policy questions here," said Jeff Farner, deputy director of the Department of Planning and Zoning. "What are the uses? What are the rates? What are hours? What is accessibility?"
Those questions have yet to be answered, in part because the St. James Group has not started negotiating with city leaders on a lease agreement. Meanwhile the developer has already conducted one community meeting to start selling members of the general public on the idea, a strategy that has already yielded a crush of e-mails to elected officials lobbying in support of the proposal. These developments come at a time when City Council is taking its summer recess.
"There's no doubt that this is not a timing that any of us would choose to lay all of this out," said Deputy City Manager Mark Jinks. "But given this was an unsolicited proposal, this is when we got it."
DURING THEIR LAST MEETING before the summer recess, members of council disagreed about how the process should unfold. Councilman Paul Smedberg argued that senior government officials should not be distracted from public business to handle an unsolicited bid from a private developer. He recalled a recent discussion about the schedule of when small-area plans would be considered as an indication that city staff members are already swamped with an overload of work.
"We don't have the resources and time to worry about an area like North Old Town that got dropped off essentially or pushed so far out it's not going to matter any more unfortunately, and now we are putting staff resources and time into an unsolicited bid," said Smedberg, the only member to vote against moving forward with consideration. "I have a problem with that."
Another objection was the possibility that allowing St. James to conduct community meetings to sell members of the public might create the perception that the proposal already has the support of city leaders. Some said the appearance of the proposal on the city's website will make it look as though it's already been endorsed while others said the series of community meetings are going to make it look like a decision has already been made.
"Citizens are really going to question why we would allow random public meetings to happen without engaging in a full process," said Councilman John Taylor Chapman. "If we were to say, 'No, you need to wait until such-and-such time,' that would send a message that we haven't fully worked out yet."
Others disagreed, arguing that the What's Next Alexandria initiative argued in favor of early public involvement for maximum public information.
"Why not allow the public to get involved?" asked Councilman Tim Lovain. "As long as there's no imprimatur of the city on the proposal, and I hear this idea that it's somehow implied but I don't think it has to be implied."'
ULTIMATELY, COUNCIL MEMBERS agreed to docket the item for this fall. That means St. James will be staging more community meetings in the weeks ahead to sell the public on their proposal. And city leaders will be trying to determine whether or not they want to move forward with an opportunity to let others submit rival bids for the public property.
"It's a total change of use of our public open space," observed Silberberg at one point in the discussion.
"We'll address that when we get to that stage," responded Euille. "We're not at that stage."
"It feels like we are getting to that stage," Silberberg shot back.