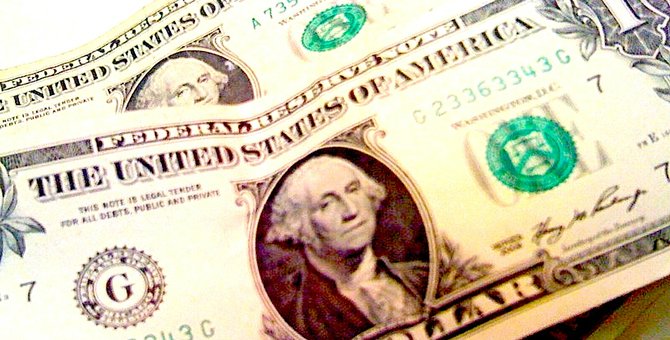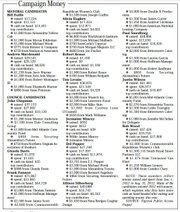 Campaign finance documents show some candidates for mayor and City Council have taken hundreds of dollars from people with business at City Hall. Other candidates are largely funding their own campaigns. There's nothing illegal about any of this, although some have questioned the ethics of buying influence. Others say it's just the cost of doing business in Alexandria.
"This is the way American government works," said Toni-Michelle Travis, professor at George Mason University. "These people are buying visibility, and they are buying a way to make sure their position is known."
Councilman Frank Fannon took in the most money of any candidate in the race, raising more than $75,000. In addition to raising the most money, he's also got the largest amount of cash on hand headed into the final stretch - almost $65,000. Top contributors include relatives such as Thomas Fannon and businesses that have a vested interest in what happens at City Hall, such as Hoffman Management. Fannon said that the money is needed to reach out to voters because of the drastically increased participation in the upcoming election as a result of moving the city election from May to November.
"We need that money to do voter education and outreach," said Fannon. "A normal City Council election has about 15 or 16 percent turnout, but this one will have close to 70 percent turnout. We need to make sure our message gets out to those voters who might not even know that the City Council will be on the ballot."
DURING ONE of the recent council debates, all of the candidates were asked if they had taken campaign contributions from developers or individuals who have a vested interest in the waterfront plan - one of the most controversial items to come before City Council in recent years. Most of the candidates answered no, but several of the candidates indicated they had.
"Minimal," answered Councilwoman Del Pepper.
"I've been friends with the Simpson family for years," said Fannon. "And they donated money to me, just like they did in the last race."
"Ditto," added Councilman Paul Smedberg.
"Simpson," said Councilman Tim Lovain.
Simpson Development is one of the major development interests in Alexandria, with longtime roots in the city. The company has a long-term lease on the Cummings-Turner property, which is one of the sites slated for redevelopment in the near future - and a central focus of the controversial waterfront plan. Washington-based Carr Hospitality has already come forward with a proposal to build a hotel on the site, which is at the northeast intersection of Duke Street and Union Street.
"Accepting money from people who have business before City Council is a conflict of interest, plain and simple," said Libertarian candidate Robert Kraus. "And the candidates that take money from these people should recuse themselves from voting on these items when they're on the docket."
IN THE RACE for mayor, independent candidate Andrew Macdonald has raised almost twice as much as three-term incumbent Mayor Bill Euille. Macdonald is running a campaign that's trying to capitalize on unhappiness about the waterfront plan and other major development decisions in recent years. His campaign finance reports show much of his support comes from people who are in opposition to the controversial waterfront development plan, which is now being challenged in court.
"I think the fundraising numbers show we have strong grassroots support," said Macdonald. "And I think it shows I can win."
Most of Euille's money comes from anonymous donors who have contributed $100 or less. Campaign finance records show 78 donations of under $100, a threshold that allows candidates to withhold the identity of the donor. But the big money comes from people who have business at City Hall. One of Euille's top contributors is Alexandria Yellow Cab, which is regulated by the city. Several years ago, the city approved a plan supported by Yellow Cab that created limitations preventing cab drivers from moving from Yellow Cab to other companies.
"It's true that Yellow Cab has a history of donating to City Council members and the cab drivers don't," said John Liss, former director of Tenants and Workers United. "But I've been doing this a long time, and I have never seen any correlation between campaign contributions and policy. They have just as much access to elected officials as we do."
SOME OF THE MONEY came from the explosion of political action committees during the fiercely contested primary in June. Securing Alexandria's Future was the most generous, donating $866 to all six of the candidates it endorsed in the primary plus Melissa Feld. The committee also donated $857 to the Alexandria Democratic Committee.
Much of the money listed in campaign finance documents wasn't money at all but in-kind contributions, services or goods that were given to candidates as part of the campaign. For example, the top contributor to the Alicia Hughes campaign is $6,800 from Washington-based Worldwatch Institute. But that wasn't a cash donation. It was office furniture the nonprofit was trying to get rid of on Craigslist. Hughes responded to the ad and is now using the furniture for her campaign office. So she logged the real-market-value of the furniture as an in-kind donation on her report.
"It's great furniture," said Hughes. "My office looks wonderful."
Many of the in-kind donations are food related. Smedberg, for example, listed a $1,000 contribution from Bittersweet Catering for his kickoff event, for example. And former Councilman Justin Wilson also logged a $1,340 in-kind contribution from Bittersweet.
"I think voters should look at the in-kind contributions and evaluate them the same way they would any other contribution and take a look at who gave the contribution and that their motivation might be," said Wilson. "At the same time, one of my in-kind contributions was $3,000 for a web site, which is the fair market value. If I hadn't received the website for free, I doubt I would have paid $3,000 for one."
Some of the candidates contributed money to themselves. Independent candidate Glenda Booth, for example, is listed as the top contributor to her own campaign, chipping in $908. Libertarian candidate Robert Kraus is listed as the top contributor to his campaign, donating $1,000 to the cause. Jermaine Mincey and his father are the sole contributors listed for his campaign.
"Having less money than the other candidates does put me at a disadvantage, but money isn't everything," said Mincey. "It forces us to be creative with getting the message out."