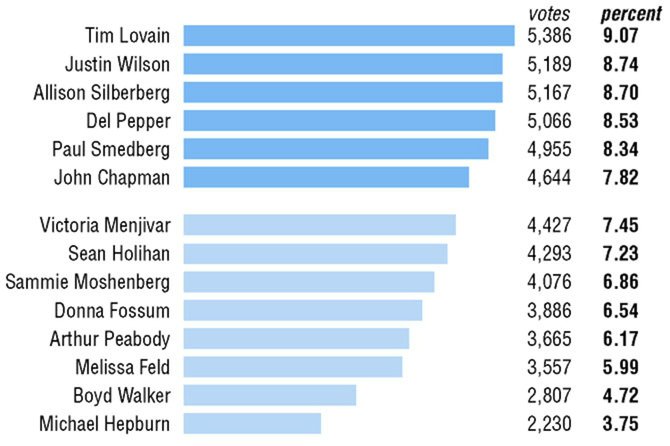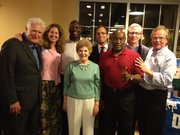 Despite calls for change at City Hall, Alexandria voters sent a message Tuesday that they like the recent direction of city government, and they selected a slate of candidates that continues the status quo. Results from this week's primary sets the stage for a confrontation this November with Republicans, who oppose many recent decisions such as the controversial waterfront plan. In some ways, the upcoming campaign for City Council will reframe the debate that played out over the last few months — a debate about whether or not the city is moving in the right direction, which included many candidates speaking out against recent decisions on everything from the waterfront plan to the Beauregard plan.
"This campaign is like none other than anything we've ever had before in Alexandria to my knowledge," said longtime Democratic activist Dick Hobson. "There was a reaction against incumbents, which apparently did not prevail."
Only one candidate who was critical of recent decisions won a place in the winners' circle, Allison Silberberg. Her candidacy was supported by political action committees seeking a change of leadership in the Alexandria Democratic Committee, and she spoke out against the waterfront plan and the Beauregard plan on the campaign trail. One of the themes of her candidacy was that the city lacks an organizing vision, a rejection of recent development decisions that have been criticized as allowing developers to have too much density at the expense of residents. Even her victory speech Tuesday night hit on that theme.
"We have a great community, a great city, and I believe we can do even better," she said as Democrats gathered at a celebration on the West End.
THE CLOSING DAYS of the campaign featured intense politics, including an attack ad against unsuccessful candidate Boyd Walker that thousands of voters received as a piece of direct mail and a coordinated effort among Republicans to vote for Walker in the Democratic primary. By Tuesday, tensions were strong as voters headed to the polls on a muggy and wet Election Day. At City Hall precinct, Beth Bergheim Silver said the final days of the primary campaign revealed the seedy underbelly of the city's politics.
"It's dirty politics," said Silver, the daughter of former Councilman Mel Bergheim. "It's the first time since 1967 when a negative mailer went out against a single candidate."
Alexandria Democratic Committee Chairman Dak Hardwick accused Republicans of "interfering" in the Democratic primary, although he was quick to add that he would invite Republicans to leave their party and join the Democrats. Republicans who participated in the Democratic primary rejected that idea, adding that Virginia has open primaries and any registered voter can participate without being a member of the party.
"I am not interfering," said Republican Tony Kupersmith shorlty after casting a ballot in the Democratic primary. "I am simply expressing my right to vote."
"We've got a Democratic machine in this city that needs to be knocked down," said Robert Pringle, who described himself as an independent voter who usually votes Democratic. "We need to get some bipartisan consideration on the development issues."
AFTER THE POLLS closed, Democrats gathered for what party officials dubbed a "unity party" at Café Pizziolo in Cameron Station. For incumbents and former incumbents, it was a time to claim victory as voters clearly approved the recent direction of the city's leadership. It was also a time for first-time candidate John Chapman to claim his spot in the winners' circle, a spot that he's been seeking for years along with the support of Mayor Bill Euille.
"My mother used to quiz me about affordable housing, and we used to talk about that endlessly," said Chapman. "That's really shaped my thoughts about policy and what we can do in this city."
Hardwick brought out the infamous Democratic broom, predicting a clean sweep in November. The political props were used in 2006 when Democrats won all six seats, but were kept out of public view in 2009 when the party lost two seats. Now that the City Council election has been moved from May to November, Democrats will be able to benefit from thousands of voters who will go to the polls to support the reelection campaign of Barack Obama.
"It's going to be real hard for those on the other side running against this slate of six, which is diverse in every sense of the word," said Hardwick. "It is very reflective of what Alexandria voters are looking for."