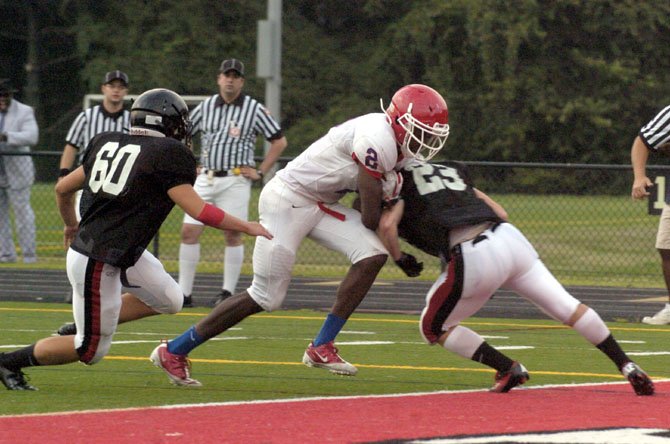 After jumping out to an early lead, the T.C. Williams football team trailed in the fourth quarter of its Aug. 23 scrimmage at Herndon when linebacker Ed Kargbo saw an opportunity to make a play.
Kargbo had picked up on the rhythm of the Herndon quarterback's cadence and shot through a gap on a well-timed blitz. The TC senior caused the Hornets signal caller to fumble and junior linebacker Lamont Whiteside scooped up the loose ball and raced about 65 yards to the end zone for what proved to be the game-winning touchdown.
TC is once again loaded with playmakers on each side of the ball — athletes capable of scoring from anywhere on the field. But if the Titans have any chance of snapping the program's 21-year playoff drought, TC will have to improve its levels of discipline, execution and mental toughness.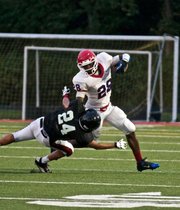 The Titans' 2012 season gets underway at 5 p.m. on Thursday, Aug. 30 when TC hosts Wakefield, a program that hasn't had a winning record since 1983. The Titans beat the Warriors, 51-7, in last year's season opener before dropping five straight en route to a 3-7 record.
Offensively, third-year starting quarterback Alec Grosser (6 feet 3, 193 pounds) is the trigger man for the Titans' spread offense. The senior showed his arm strength against Herndon with a long touchdown pass to a streaking Landon Moss, but he also exhibited a moment of sophomore-like decision making, when he threw a pass directly to a Hornets linebacker, rather than throwing the ball away out of bounds.
"We played well," Grosser said after the scrimmage. "Me, personally, I made some mistakes. I need to work on throwing the ball away. That's the dumbest throw I've ever made."
If Grosser can limit his mistakes, he has the talent — and the surrounding weapons — to make the Titans a scoring machine.
"We run the [spread] offense that we're running because we have five or six guys that can touch the ball and go," said TC head coach Dennis Randolph, who has returned to the Titans sideline after missing the final six games of 2011 while battling pancreatic cancer.
One of those weapons is Moss, a 6-foot-3, 190-pound receiver. Moss caught two touchdown passes in the Herndon scrimmage.
"After the first series, [when] Landon caught the first hitch [for a touchdown] I was just like, I don't think that guy can stay with him," Grosser said. "It's just a matter of me getting the ball in his hands."
Junior Alex Bledsoe (6-1, 160), senior Julius Cooper (6-2, 210) and junior Malik Carney (6-3, 205) are also pass-catching threats.
"I feel like we have weapons all around the field and we're capable of making big plays at any time," Moss said. "It's just a matter of us executing the play."
Senior running back Dealo Robertson (5-8, 182) figures to be the Titans' primary threat on the ground.
"He's very quick [and] he has good vision," Randolph said. "Sometimes he gets a little anxious and tries to get outside too fast. Sometimes you've got to let the play develop, let the linebackers over-run it and then cut back and a couple times tonight he didn't do that. Overall, he does a very good job with that, so that makes him a good back. He's just got to learn to be a little more consistent."
Junior center RJ Thorne (6-1, 280) is a standout on the offensive line.
"I feel like we have weapons all around the field and we're capable of making big plays at any time. It's just a matter of us executing the play."

— T.C. Williams receiver Landon Moss
On defense, Kargbo (5-11, 185) is starting at "Mike" linebacker after not playing football his sophomore or junior seasons. Defensive coordinator Avery Williams said Kargbo is a smart player who only needed about a week to understand the defense.
"He really did a great job [in the Herndon scrimmage] considering the fact that he's been away from football for a couple years," Williams said. "He's stepped right in, he's learning the entire defense, he knows the calls, he knows all the checks, he's essentially running the defense."
Junior defensive back Tyrice Henry (5-7, 149) is the leader of the Titans secondary and returned a kickoff for a touchdown against Herndon.
"He knows the entire secondary calls," Williams said. "He's the one who's running everything on the back end of the defense."
Senior defensive back Carlos Jordan (5-9, 148) intercepted a pass during the scrimmage.
"As a defense, we're good, it's just that discipline part that we need," Kargbo said. "Other than that, we're good across the board."
Sophomore kicker Zach Eisenhour (5-6, 135) made a 40-yard field goal.
TC will host Westfield, last year's Division 6 region runner-up, on Sept. 8. The Titans will open Patriot District competition on Sept. 22 at home against South County, last year's Division 5 state runner-up.