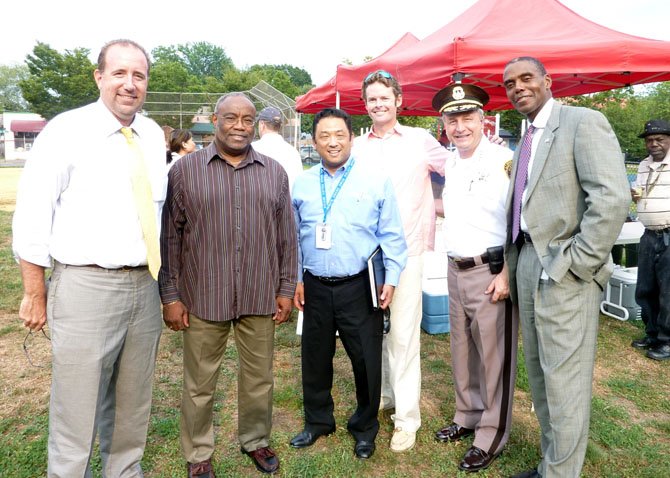 Alexandria — The enthusiasm was infectious across Alexandria as dozens of neighborhoods came together Aug. 7 to celebrate National Night Out, a program designed to promote neighborhood spirit and law enforcement-community partnerships in the fight against crime.
"This is part of a national strategy to connect communities in these kinds of efforts," said David Mineta, a 1981 graduate of T.C. Williams High School and now deputy director, Office of Demand Reduction, of the White House Office of National Drug Control Policy. "It's a strategy that is working because of events like this."
Mineta accompanied Mayor Bill Euille to 15 sites throughout the city in support of National Night Out, an initiative that began 29 years ago as a simple display of outdoor lights and front porch vigils. The event has evolved into block parties and cookouts and an opportunity for local officials and law enforcement personnel to meet with residents of civic groups and neighborhood organizations.
"I am glad to be back in Alexandria," said Mineta as he visited with residents at the Mount Vernon Recreation Center field. "This is where I learned about community work and the importance of communities coming together working on crime and drug prevention. It really is a very special place."
The Del Ray Citizens Association sponsored the event at the Mount Vernon Recreation Center, which included more than 400 hot dogs donated by 7-11, entertainment by 50 Man Machine and firefighters and volunteers from Your Dog's Best Friends manning the grills.
"What a great evening," said longtime Del Ray resident Gayle Reuter. "This is a wonderful opportunity to get together with our neighbors and say 'thank you' to the officers, firefighters and first responders who keep us safe throughout the year."
Photo Gallery
National Night Out Photos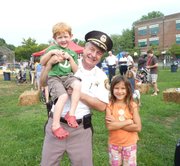 Click Photo for Flash