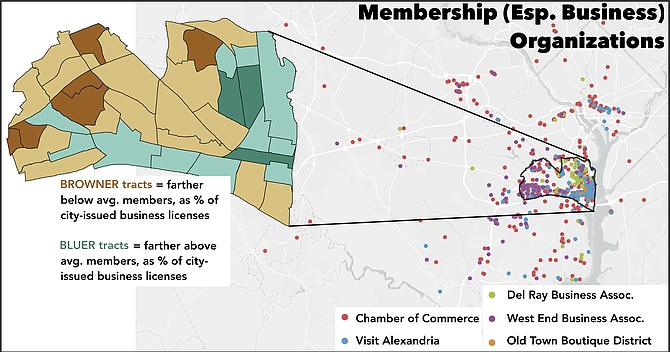 Membership Organizations: This map stitches together certain associations' members, totaling some 1,500. Members include mostly private sector businesses, but also some public sector officials and agencies, nonprofits, religious institutions, education institutions, etc. Such membership organizations might exert political influence directly (e.g., legislative agendas, candidate forums, etc.) and/or indirectly (e.g., in several cases City Council members and government agencies are formal members). All business associations listed on the Chamber of Commerce and Alexandria Economic Development Partnership web sites were contacted or attempted. As of spring 2019, 24 percent of members resided outside Alexandria. Not included are the Eisenhower Partnership and Carlyle Council, which declined to furnish directories; the Old Town Business and Professional Association, which said it lacks an up-to-date directory; and the Queen Street Area and Arlandria-Chirilagua Business Associations, both defunct, according to several sources. (Note: While normalizing the data is necessary, doing so as a percent of city-issued business licenses isn't perfect, since not all members are businesses. The same member is shown multiple times if belong to multiple associations. But where multiple individuals from the same organization belong to the same association, that organization's membership is shown only once.) Sources: Business associations' management and/or web sites, Google searches, Esri, City of Alexandria
Stories this photo appears in:

A look about patterns of civic participation and non-participation across the city.
.