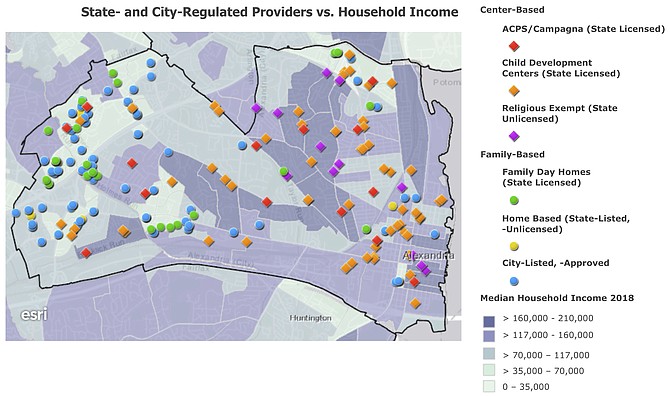 Out-of-home "center-based" providers skew eastward and in-a-private-home "family-based" providers skew westward. Both categories have pros and cons. On the one hand, center-based providers likely prepare older children for school in a more structured and effective manner. On the other hand, family-based providers likely serve younger-age infants and toddlers and are likely more geographically accessible to lower-income families. Data sources: Esri, TomTom, U.S. Department of Commerce, U.S. Census Bureau, Virginia Department of Social Services (www.dss.virginia.gov/facility/search/cc.cgi), Alexandria Department of Community & Human Services (www.alexandriava.gov/ChildCare, accessed Aug. 28, 2018).
Stories this photo appears in:

A look at the ecosystem serving Alexandria's youngest.