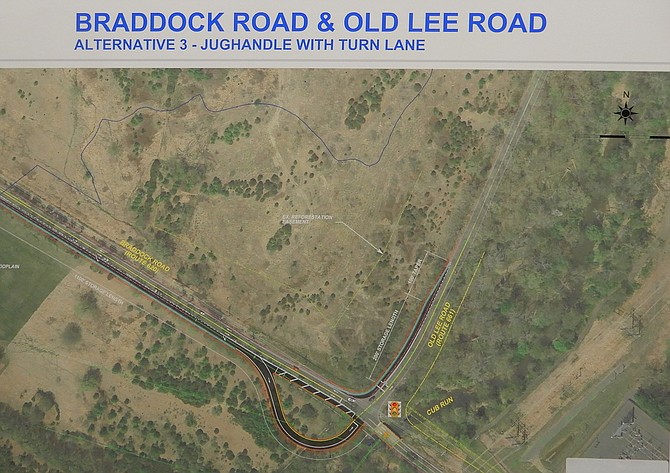 With no public notice until the last minute, local land-use groups mobilized at the 11th hour to update their 2020 resolution decrying a proposed jughandle at Braddock and Old Lee roads in Centreville. A state delegate even wrote a letter to the Fairfax County Board of Supervisors, asking them to delay action on it.
But as has happened with this issue in the past, their pleas fell on deaf ears and – at the urging of Supervisor Kathy Smith (D-Sully) – the Board unanimously approved the county funding needed  to make this project a reality. It had already received $16 million in Smart Scale money from the Commonwealth Transportation Board (CTB); and on July 19, the Supervisors contributed $2 million from the county.
"Environmentally, ecologically, financially, the jughandle is untenable," said Jay Johnston with the Sully District Council of Citizens Associations. "Only Loudoun County residents benefit."
Fairfax County's current Comprehensive Plan calls for realigning Braddock and Old Lee roads in Centreville to cut through Rock Hill District Park, with Braddock ending in a T at Old Lee. But VDOT says it's too expensive and prefers instead to make "interim, low-cost improvements."
It plans to add a traffic signal, plus a 200-foot southbound right-turn lane and a 1,100-foot jughandle lane to accommodate the existing eastbound left turns. The work would include realigning the S curve on Braddock by cutting 20 feet deep into the ground and removing a large section of rock. 
At both in-person and virtual public hearings in 2020, local residents told VDOT not to do it because it would just add more traffic to Braddock from Loudoun County, making it harder for Centreville residents to access that road. But VDOT chose the jughandle plan anyway.
in July 2020 – prior to the second public hearing – the Supervisors recommended it receive nearly $16 million in Smart Scale funding from the Commonwealth Transportation Board (CTB). At that time, no Fairfax County projects – including this one – were approved. 
But when an Alexandria Smart Scale project was canceled, in fall 2021, unbeknownst to Centreville residents, the CTB shifted $16 million of those newly freed-up funds to the Braddock-Old Lee project. Then, before the Supervisors' July 19 vote, Fairfax County Department of Transportation Director Tom Biesiadny discussed what happens next.
"VDOT has done some conceptual design work that'll be moved into more formal design," he said. "The environmental work still has to be completed, and there'll have to be a design public hearing before the project comes back to the [CTB] for formal approval of [it] to go to land acquisition and construction. So there'll be opportunities for additional public comment and the project will have to address all environmental concerns [before it can be built]."
Smith then read VDOT's responses to some of the residents' questions during its September 2020 virtual meeting. When asked why the Comprehensive Plan alignment wasn't recommended, VDOT said it was because it would cost more than $80 million.
A resident asked, "Why not consider a single, southbound, right-turn lane on Braddock?" VDOT replied that it wouldn't address all current operational and safety issues at that intersection, and that's why this project is being done. Regarding potential impacts to public and private property, VDOT said the public will be able to have input.
Nearly laughing while she read a resident's concern about this project increasing traffic from Loudoun County into Centreville, Smith said, "This would address safety and congestion concerns already present. Braddock Road is a public road with no restrictions on access for regional traffic. Lots of people travel the road, so VDOT suggested a jughandle."
"It wasn't my idea, but I was comfortable with it," she continued. "I think it's vitally important. We have accidents and issues there, so I ask for my colleagues' support." Then, without any questions or discussion by any of the other supervisors, the Board unanimously approved the county funding.
However, area residents remain alarmed at the harm this plan would do to the environment. And Sully Estates' Kathleen Leggette, who lives along Braddock Road, would see it firsthand.
The jughandle would cut a swath directly through her backyard – in a 100-year floodplain, the Chesapeake Watershed and a Resource Protection Area – endangering both the wildlife and the environment there. VDOT's so-called "interim" road would cause permanent damage to her land, she said.
Leggette even used a rope to trace the path of the new road through her land. "It's just 20-24 inches from the stream and 5-feet below the current road," she said. "It makes no engineering sense. A transportation engineer I consulted said VDOT really underestimated the S curve. It'll have to take Braddock Road land after the Pleasant Valley roundabout, to the S curve, downhill and from several other properties because it's too steep and won't work."
Agreeing, resident Daniel Mays said the original Comprehensive Plan path through Rock Hill Park "doesn't have the engineering challenges the jughandle does, so it shouldn't be more expensive. Ban trucks at the S curve and put a stop sign at Braddock and Old Lee instead." Furthermore, he added, "This road, so close to the Cub Run Stream – protected by law from construction – would endanger the water." 
Also worried about the project's environmental impact was Virginia Run's Jim Hart. "This site is just downhill from the largest stand of a globally rare oak and hickory forest in Virginia," he said. "Environmental-impact studies should be done first. The Cub Run Stream contains the threatened wood turtle, and there'd be massive disturbance in the floodplain uphill from the Occoquan."
He, too, said VDOT's plan would result in more traffic – and large trucks – from Loudoun on Braddock. "The two-lane segment of Braddock was never intended to be the main way between Loudoun and Route 28 in Centreville," said Hart. "These neighborhoods weren't meant to be commuter neighborhoods."
On July 15, Leggette – who'd thought lack of funding had killed this project – notified the joint land-use committee comprised of the Sully District Council (SDC) and West Fairfax County Citizens Association (WFCCA) that VDOT sent her a letter requesting entry to her property to conduct studies. That's when she and the land-use members learned Smith would ask the Supervisors to OK the jughandle at their July 19 meeting just four days later.
"I'm just stunned by the lack of transparency on this issue," said WFCCA's Ted Troscianecki, who said the project would greenlight "volumes of traffic to get from Loudoun to Braddock to the HOT lanes on I-66."
On July 17, the land-use committee painstakingly updated its 2020 resolution opposing the project and emailed it to the Supervisors. Del. Dan Helmer (D-40th) emailed them a letter, too, urging "deep study of environmental impacts" before moving forward with this road. He also said he "shared constituents' concerns that traffic in areas with residential driveways on Braddock Road will dramatically increase and expand the danger to families who live here." 
"After they've destroyed that intersection, desecrated the woodlands and cut into that hillside, someone will then want to add more lanes to that road, said SDC's Lewis Grimm. "This is clearly another example of how out of touch the current Supervisors are with the citizens they supposedly represent." 
Following the Supervisors' approval, a disgusted Carol Hawn, of the WFCCA, said, "No one listened."
"Not a single objection, discussion or question," said SDC's Johnston. "Their eyes and ears are closed to us all. Our only recourse is to vote them all out and start over with people willing to serve the constituency."
Agreeing, resident Jeff Flading said, "The Board of Supervisors counts on the majority of voters not paying attention to what they do in the details of day-to-day governance." 
Leggette said Smith's record "has been one of ignoring her constituents' voices, consistently supporting developers and paving over the green spaces we have left in Sully District." 
"This ill-conceived transportation project will cause increased speeding on Braddock," continued Leggette. "With the S-curve eliminated, there'll be more accidents as eastbound cars fly down Braddock while trying to enter the jughandle within 100 feet of vehicles entering and exiting Sully Estates."
Furthermore, she said, "The environmental destruction of the federally protected Chesapeake Watershed will be devastating and irreparable. Based on their design, there are no mitigating actions VDOT can implement. The jughandle lane will be in a floodplain which, after every rainstorm, floods. It'll literally sit on the bank of Cub Run Stream – allowing debris, chemicals and oils to run into the stream."
"Once again, citizens tried to get the Supervisors to do the right thing," said Hart. "At least the effort demonstrates there are people who want the community to be better and our county government to be transparent and accountable."