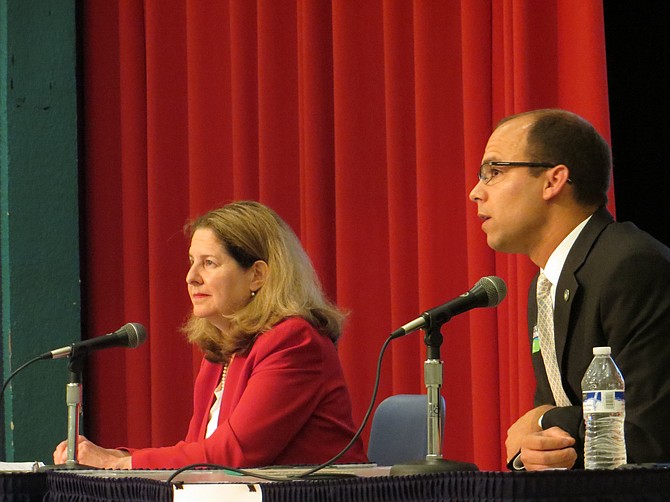 A month ago, when the first mayoral debate took place in Del Ray, it was mild. The candidates focused on their policies, with a couple light jabs at the other's record. The audience was respectfully quiet, only showing a collective groan when the meal's tax was mentioned.
But two weeks before the end of the election, at the George Washington Middle School just down the road from where the debate season started, the kid gloves came off. The audience booed and hissed as both candidates hammered each other on everything from broad policy differences to specific questioning of the other's qualifications for the position.
The June 1 debate was a rehash of the usual rhetoric between Mayor Allison Silberberg and Vice Mayor Justin Wilson. Throughout the campaign, and the last three years of City Council debates, Wilson has repeatedly attacked Silberberg's record of lone votes against various development projects, including affordable housing and infrastructure projects. Silberberg, in turn, has defended her votes and accused Wilson of being overly favorable to developers to the detriment of local citizens.
While in earlier debates it was Wilson that drew first blood, at the June 1 debate Silberberg came out swinging: attacking Wilson for his support of developments at Karig Estates and Potomac Yard, along with the approval of a transportation plan that reduced the amount of parking spots new developments were required to provide.
Wilson and Silberberg repeatedly traded blows throughout the campaign over the parking development standards approved earlier this year, where Silberberg had been the lone dissenting vote. The legislation reduced the commercial parking requirement in parts of the city where a task force found that there was excess parking coverage. A study of 60 commercial sites found that nearly 40 percent of the lots were unused during peak hours. Part of the legislation would also allow businesses with differing peak hours to share the same parking spaces. Wilson championed updating the parking standards as a step towards making Alexandria more business friendly. However, Silberberg said the reality of Alexandrians struggling to find parking spaces in the city doesn't match the data.
"I want to encourage transit, but car registration is up," said Silberberg. "Developers should have to provide sufficient parking."
Silberberg continued to push against Wilson early in the debate, following up the parking comment with another controversial vote that pitted Silberberg against Wilson. The City Council's longstanding rule has limited public comment at the beginning of meetings to 30 minutes, however the rule has been very tenuously enforced. In January 2017, Wilson proposed enforcing the rule and having those signed up to speak after the 30-minute mark begin at the end of the meeting.
"I firmly believe this is a government of the people, by the people, for the people," said Silberberg. "I have been trying to make the city more transparent. The open mic vote was critical. I was the only one to support it; [my] opponent pushed it forward quickly without public engagement to limit the public comment. I think that is a difference: I put a huge value on listening to people."
After holding off on attacking earlier, here Wilson began to fire back at Silberberg. Wilson said that citizens who had arrived to speak on docketed items had been leaving meetings because the initial public comment had doubled in length since Silberberg had taken over.
"The change was so residents could get a word in," said Wilson. "It was poor management that led to the long open mic [sessions]."
The most tense moment of the night came when Wilson repeated an attack he'd used against Silberberg in earlier debates: listing a series of affordable housing projects all of which Silberberg had expressed opposition towards. However, on the St. James Plaza project which Silberberg had opposed initially, Silberberg turned that back against Wilson. The project had been controversial for initially including a pool which would have been off-limits to affordable housing residents. Silberberg called the project discrimination, then doubled down and attacked Wilson over his proposal to merge the two Board of Architectural Review committees.
Earlier this year Wilson had supported a proposal backed by members of the Parker-Gray Board of Architectural Review to merge the board with the similar Old Town group. But Silberberg accused Wilson of moving forward on the plan without consulting the historic African-American community leaders and said he had acted insensitively. Wilson, whose father is African-American, clarified that his motion had been to discuss the idea of merging them, not a motion to actually do so.
As the campaigns wind towards a close, Wilson raised the issue of endorsements. Silberberg faces an uphill battle against a local Democratic establishment that has largely rallied around Wilson. Silberberg won her primary election as mayor three years ago against then incumbent Bill Euille and the preceding mayor Kerry Donley, who split the vote. Both Euille and Donley have endorsed Wilson. Wilson was also endorsed by fellow City Council members John Chapman, Willie Bailey, and Tim Lovain, a majority of the School Board, and a host of other current and former local politicians. Silberberg, in contrast, has three endorsements from local organizations.
"My thinking behind that was really looking at who is going to be a policy leader, because the real issues of school capacity infrastructure, transit, growing deficits are going to be accomplished by making good policy and having someone that is a leader of a bunch of folks on council to help them with that," said Chapman. "I don't want to wake up when I'm old and I have kids and they're looking at me like, 'Hey, how come you didn't make sure that we have the best Alexandria possible?' That means that I need to understand good policy and promote it. So, to reach out and endorse him even though I have a tight race was essential in signaling where I want our city to go."
The issue became a flashpoint when Wilson responded to Silberberg's pride in environmental efforts undergone in the last few years that he was the one who had been endorsed by the Sierra Club.
"It's a free country," Silberberg said. "This water bottle could endorse someone."
After the debates, both candidates said they believed the debates went well but wished they had more time.
"I wish we had more [debates]," Wilson said. "She was the first one to send a mailer out that incorrectly attacked my record as well as incorrectly characterized her record. And that was weeks ago, and I think during the debates we saw a continuation of that."

"I think they went well," said Silberberg. "I appreciated those who organized them and those who attended. It was a good way to share my vision for our city and I hope people will vote for me… I tend to speak from the heart and share my thoughts about the issues. It's hard to do, to always answer a question in 45 seconds, but that's what you have to do in these cases."
The Democratic Primary will be held on June 12. Registered voters can vote in one party's primary or the other, but not both. The winner of the primary will move on to the general election in November.