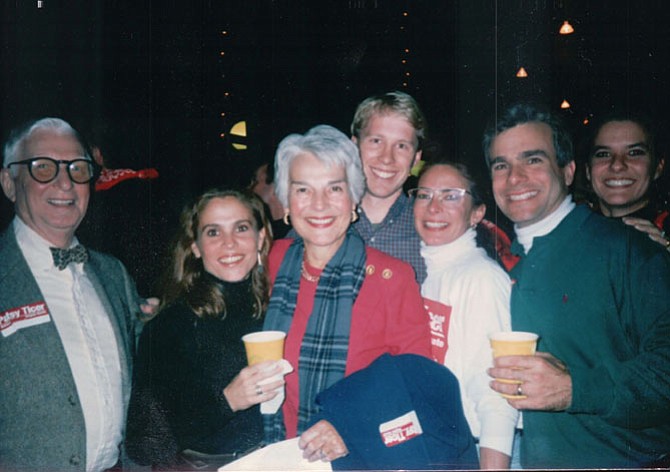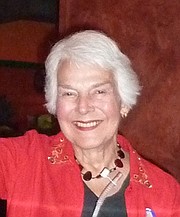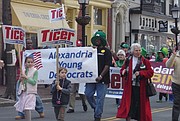 "Mom's political campaigns were never about breaking a glass ceiling. It wasn't until much later that she realized the significance of her accomplishments." — Margaret Ticer Janowsky
Patsy Ticer had a passion for politics. She came by it naturally, majoring in political science in college and marrying local politician Jack Ticer during his first term on Alexandria's City Council. But among friends, she was also known for her love of tennis.
"Tennis was a huge passion for mom," said Ticer's daughter Margaret Janowsky. "Her mother was a semi-professional player in D.C. and mom played throughout her lifetime. Many of her friends remember mom as much for wearing her little tennis skirts around town as they do for her politics."
But it was Ticer's political career that garnered her accolades from across the nation as Alexandria's first elected female mayor then four-term Virginia state senator. On Aug. 7, the longtime Democratic party matriarch died at Inova Alexandria Hospital after suffering complications from a fall. She was 82.
"It is difficult to imagine a time when Patsy was not deeply involved in our community," said Mayor Allison Silberberg. "I have often introduced Patsy as the most beloved person in our city, and she was that and so much more. She was a rock star. Everywhere we went, citizens wanted to come over and speak with her."
Patricia Keyser Smith was born Jan. 6, 1935, in Washington, D.C. In 1947, her family moved to Alexandria. She graduated from George Washington High School in 1951 and continued her education at Sweet Briar College, where she earned a bachelor's degree in political science in 1955.
In 1956, Ticer married City Councilman John "Jack" Ticer. They lived in Yates Gardens until 1961 when they purchased a home on Prince Street. Ticer, whose parents had worked on Jack's political campaign, became involved in neighborhood activism and had a career in real estate before entering into politics at the urging of her husband and also then-mayor Charles Beatley.
Ticer was elected to Alexandria City Council in 1982. She became vice mayor in 1984 and succeeded then mayor Jim Moran in 1991 when he was elected to the U.S. House of Representatives. In May of that same year, Ticer was elected to a full three-year term, becoming the first elected female mayor in the city's history.
During her tenure as mayor, Ticer championed social services, early childhood education and the arts. She led the city's successful fight against the Washington Redskins and then owner Jack Kent Cooke in his bid to build a new NFL stadium at Potomac Yard.
In 1995, Ticer was elected to the Virginia State Senate, unseating Republican incumbent Bob Calhoun in the 30th District. At the time, there were eight women serving in the state Senate.
"Mom's political campaigns were never about breaking a glass ceiling," said Ticer's daughter Margaret Janowsky. "It wasn't until much later that she realized the significance of her accomplishments."
In the Virginia Senate, Ticer served on the Rehabilitation and Social Services Committee, the Local Government Committee and chaired the Agriculture, Conservation and Natural Resources Committee. She announced her retirement in 2011 after serving four terms.
Ticer's accomplishments also included serving as the president of the National Association of Regional Councils. She was only the third woman to be president of the prestigious national organization.
She participated in several local nonprofit and civic organizations and served as a warden at St. Paul's Episcopal Church. She was an Alexandria Hospital board member and served as president of the auxiliary TWIG.
Ticer is survived by her four children: Janowsky and her husband Laurent of Alexandria; John T. Ticer Jr. and his wife Hayley of Vienna, Va.; Catherine Ticer of San Jose; and Virginia Baechler of Alexandria. She also leaves behind five grandchildren: Park and Zack Ticer; Sandrine and Marcel Janowsky; and Rand Baechler. Funeral arrangements are still pending.
"For me, Patsy was a touchstone and mentor, as she was to so many others," Silberberg said. "This is a profound loss, not just for me but for our entire city."