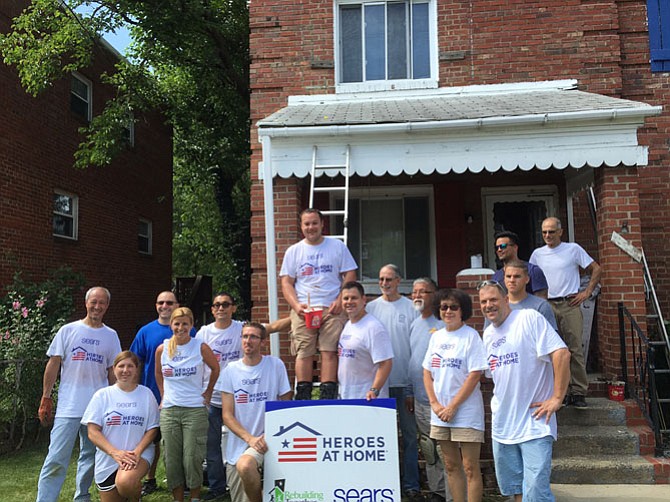 The month of August brought a large sigh of relief for one of Rebuilding Together Alexandria's applicants. A Vietnam veteran, retired City of Alexandria employee, and pool champion received an interior and exterior refresher to his home thanks to a Sears' Heroes at Home grant. Heroes at Home is a program created through the collaboration of Sears and Rebuilding Together to improve the lives of veterans and their families through extensive home rehabilitations.
Mr. C's repair needs were originally brought to our attention by a city employee who had referred Mr. C to our organization because of an exterior code violation. Rebuilding Together Alexandria has a long history of partnering with the City of Alexandria to assist low-income homeowners with health and safety repairs, so we were eager to help.
Since Mr. C has been suffering from several impairing health conditions and is wheelchair bound, it has prevented him from being able to do the work himself. Fifteen volunteers spent the day cleaning up his yard, scraping and painting the exterior of his house, repairing a fence, installing new kitchen flooring, painting the interior, assisting Mr. C with organizing his belongings, among many other tasks.

Heroes at Home funds were also used to improve a home owned by the City of Alexandria and managed by New Hope Housing that is now home to three formerly homeless veterans. In the past, volunteers painted the veteran home, replaced the front screen door, built an outdoor platform, and installed doors, mini-blinds, and smoke detectors. Contractors repaired the hardwood floors, cleaned gutters, and pointed up exterior brick. While much improved, this townhome still needed new appliances and basement flooring, all funded through this year's Heroes at Home program. Three formerly homeless veterans love calling this Potomac West neighborhood "home."
The work of the City of Alexandria, local non-profits, and dedicated volunteers amounted to the City declaring in 2016 that it had effectively ended veteran homelessness, having resources to house all veterans identified during that year's point-in-time count.
Mr. C and the veteran home are just two projects out of the 100-plus we complete each year, making homes safe and healthy. If you want to get involved, gather a group, and sponsor a home of a low-income resident in the City of Alexandria, we encourage you to contact us. For more information, call 703-836-1021 or visit www.RebuildingTogetherAlex.org.