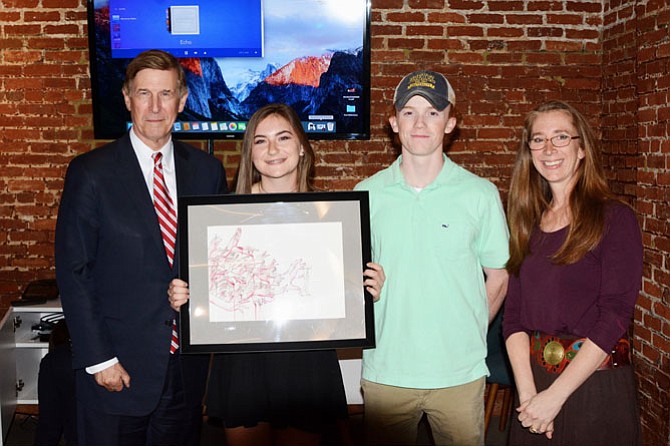 Eight Upper School St. Stephen's & St. Agnes School artists participated in The Artistic Discovery Competition sponsored by the Congressional Institute. This year the National Art Education Association (NAEA) hosted the Artistic Discovery Contest Exhibition for U.S. Rep. Don Beyer's 8th district. Forty-eight works of art from eight schools within this district were on display in May at the NAEA Studio & Gallery in Alexandria.
St. Stephen's & St. Agnes School had several winning pieces including Catherine Owens '19 who won the top prize. Her winning artwork will hang in the Capitol for a year. At the ceremony on May 17, Beyer asked Catherine to discuss her piece. She explained how her class collaborated with the English Creative Writing class and each student illustrated a poem by another student. Coincidentally, the student's work she illustrated (Cole Early '17) was in attendance so they were able to honor them both.
Additionally, Nathan Pugh '17 and Malcolm Reynolds '17 won two of the six Honorable Mentions.

The students from SSSAS who participated were Maura Durkin '18, Cole Early '17, Catherine Owens '19, Nathan Pugh '17, Malcolm Reynolds '17, Paige Stewart '17, Caleigh Warner '17, and Zak Zeledon '19.
Maggie Bell '17 and Krystal Orellana '17 artwork exhibited in U.S. Rep. Gerry Connolly's exhibit at the Workhouse in Lorton, as they reside in the 11th Congressional District.