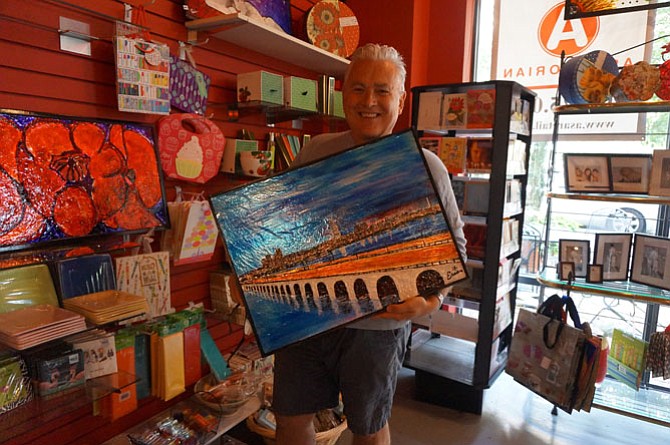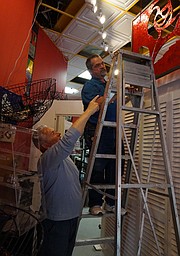 When Eric Nelson turned 50 in the summer of 2006, he "jumped off the cliff," leaving the security of a lucrative lobbying position to open a chocolate and gift shop in Del Ray. A lifelong artist, Nelson was able to showcase his work at stores that grew to include ACKC in the Dupont Circle area of Washington and Artfully Chocolate Bistro in Alexandria's Carlyle district. But after nine years, he is ready for his next challenge.
"I have mixed emotions about closing this chapter of my life," said Nelson, who will close the doors to Artfully Chocolate Bistro on May 27. "I am excited about the future but sad to be saying goodbye to the brand of Artfully Chocolate and all the wonderful customers and friends I have made over the years."
Nelson's love for art was evident in his shops, which featured tables, bar tops and walls adorned with his colorful artwork. Those pieces and many more will be offered for sale through the Alexandria-based online auction house Rasmus Auctions.
Rasmus Auctions was founded in 1981 by Ron Rasmus. Following his retirement, Rasmus' son Chris and daughter-in-law Susan, both graduates of T.C. Williams High School, took the reins of the company, which combines traditional auction-style previews with the online bidding format of eBay.
"It's like eBay on steroids," said Susan Rasmus.
No need to sit through in-person auctions — all bidding is done online through a computer, tablet or smartphone.
"This is an exciting process for me," said Nelson, who opened the Carlyle location in December of 2010. "I wasn't sure how I was going to handle the moving and storage of inventory. This way, it is handled by professionals and creates a wider audience for some of my original art."
Rasmus handled the sale of assets of the historic Old Town Theatre when it closed its doors last year, as well as the sale of property from the Hotel Monaco for a recent renovation. In addition to Artfully Chocolate Bistro, they are currently handling the closing of Old Town's Flying Fish Restaurant.
A vast collection of Nelson's art — including tables, vases, serving trays and paintings — can be purchased along with retail restaurant fixtures during the online auction on May 27. Inventory can be seen now online with an in-person preview day set for May 26. To view the inventory or for more details about registering as a bidder, visit www.Rasmus.com.
"I'm not quite sure where I will land next," said Nelson, who holds a master's degree in economics. "But I do know that I want to stay connected to the Alexandria community. So for me, this is not about saying goodbye, it is about saying that I will see my friends and customers again in a different way."