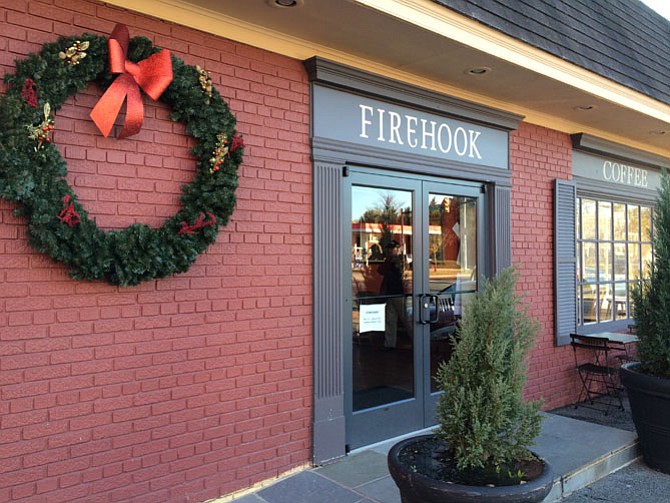 Details:
Firehook Bakery
Address: 430 S. Washington St.
Hours: 6:30 a.m.-7 p.m. Monday-Friday; 7 a.m.-5 p.m. Saturday-Sunday.
For your holiday party: "The Yule log tends to get the celebration started," co-founder Pierre Abushacra says. "… It's great because you can slice it thin and it keeps very well. It's a delicious, light cake. We have two — a chocolate and a Grand Marnier. It looks beautiful as a presentation for a centerpiece, and it's easy to serve. You can slice it and once it's sliced the slices look nice."
Think about the holidays for a moment. What comes to mind first? Maybe a Christmas carol, or maybe the Fraser fir that sits stately in the living room. But surely the thought of cookies and milk — or pies and pastries — isn't far behind. At Firehook Bakery, such sweets (as well as savory treats) are at the top of mind every day — and especially so during the holiday season.
After more than 20 years in Alexandria, Firehook's bakers and staff have gotten their holiday season plans down to a science, says co-founder Pierre Abushacra. During the ramp-up to last year's Christmas season, "We were panicked because there was no panic!" he laughed. "… We're lucky in that we have same really great people and bakers that have been with us since Day One (and) are still with the company."
That longevity certainly comes in handy this time of year, when holiday items are being rolled out at a rapid pace. From sugar cookies to pear-cranberry almond tarts to many sweets in between, the treats are seemingly endless. But one stands out as a centerpiece just waiting to be put into the spotlight: The buche de Noel.
"The one dessert that has been a staple for us at Firehook and has a little bit of personal history for me is the Yule log, the buche de Noel," Abushacra said, explaining that his own mother spent many holiday seasons decorating Yule logs in his uncle's bakery. Each year, "we would get a free Yule log for the family, and I never, never thought I would carry on that tradition years later."
But throughout the years at Firehook, Abushacra has done just that. And the Yule log has become one of the bakery's staples each and every holiday season.

So too have Firehook's breads, a savory treat so often overlooked (but desperately needed for the dinner table) during the holiday season. Whereas the bakery once played host to 250 different kinds of bread, Firehook has recently pared its selection down to 25. And that, Abushacra says, has made all the difference in terms of quality and bakers' inspiration. Now, bakers can spend more time on each loaf of bread and can offer customers fresh-baked loaves on a set timetable, allowing for 5 or 6 breads on the permanent rotation every day of the week, plus a rotating schedule of a half-dozen more as each day goes by.
Along with the new bread lineup, Firehook has introduced a new sourdough starter that hits very close to home: Bakers harvested the grapevine garden grapes from Firehook's Cleveland Park location and made their own sourdough starter with it. That starter now serves as the base for all of the bakery's sourdough bread in every store, Abushacra says.

"The grapes came from a garden that's about 55 years old," adjacent to the former Roma Restaurant (and current Firehook) in Cleveland Park, Abushacra said. And in terms of the bread menu at large, "the quality of the breads really makes me proud of what we've done. Maintaining and bringing that back is great. It makes me feel good."
Longtime Alexandrians will remember that Firehook took over the space formerly occupied by the old Shuman's Bakery, another holiday destination year in and year out. Abushacra says it's an honor to have been in the space for so long.
"We are blessed that we started in Old Town and we remained as part of the community. We're very proud of our roots."

Hope Nelson owns and operates the Kitchen Recessionista blog, located at www.kitchenrecessionista.com. Email her any time at hope@kitchenrecessionista.com.