Alexandria — In a throwback to 1970s television hits like "Sanford and Son," "Chico and the Man" and "All in the Family," Port City Playhouse's latest production of "The Soul Collector" tells the story of two African-American sanitation workers living in a cramped apartment in Cleveland. Hilarity ensues when they collect items along their sanitation route to sell and finance their dreams of a better life.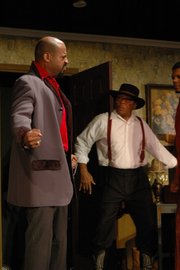 Director Deidra Starnes has assembled a talented cast, with Chaz Pando as Darnell, DeJeannette Horne as Cedric, Cris Dinwiddie as Wisher, Donnell Boykin as Mr. Coleman, Kecia Campbell as Mrs. Coleman and Lolita-Marie Clayton as Claire.
"I was attracted to the idea of directing 'The Soul Collector' because of its underlying theme of the power of an indomitable spirit," Starnes said. "The unconditional love and loyalty that tie families together, dreams of success and the determination to achieve those dreams are all powerful motives for the characters in this play - both the characters the audience can see and the ones they can't."
Written by D.C.-area actor and Helen Hayes award-winning playwright David Emerson Toney, "The Soul Collector" is an entertaining and thought-provoking play that follows Cedric and his nephew Darnell as they collect junk during their jobs as garbage men to finance their dreams of opening a chicken joint and becoming become a singer. Their plans are derailed when one of their neighbors, Claire, turns up in their apartment possessed by the spirits of both an old talent manager named Saul Kaufman and a Japanese girl named Mimi.
Enter Mr. and Mrs. Coleman, neighbors from across the hall, who decide to help Cedric and Darnell free Claire of her unwelcome spirits.
"It's no wonder Mr. Toney set his play in the early 70s," Starnes said. "It was a time of war and social revolution and posed challenges to the American dream and the American family."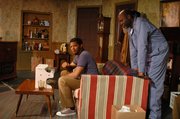 A talkback session with Toney and fellow director, actor and choreographer Michael Bobbitt will take place following the 8 p.m. show on Nov. 10.
"The Soul Collector," making its regional community theatre premiere, will be performed through Nov. 17 at Port City Playhouse at The Lab at Convergence, 1819 N. Quaker Lane, Alexandria. For tickets or more information, call 703-838-2880 or visit www.Portcityplayhouse.org.